Friday, July 27, 2012
Friday Thoughts and Links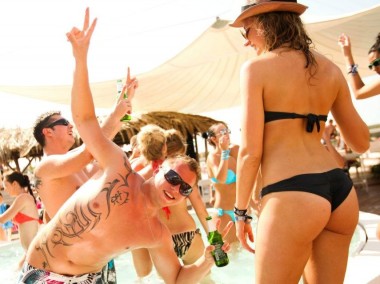 Your humb narrs is spending the week in NYC on a bit of a melancholic mission.
You see, ever since I was a wee lad at NYU back in the 1990s, I've had this rent stabilized apartment in the east village. I lived there in a state of perpetual festivity for many a southern moon.
But, after venturing forth to the city of angels in 2002, and many years and roommates and adventures traveling back and forth between Hollywoodland and reality, it is finally time for me to give my beloved apartment up. And cease the stalking of all east village boobie hottie suckle thighs once and for all.
And so I arrive in humid NYC for a final pack-up of all reminders of DB1's carousing life back in the dreamland phantasmagoria New York. I sit in the rain and eat raisin challah, and reminisce. Back when the federal budget was balanced, the subway was introducing sweet new technology, and "Sex and the City" inspired a generation of 18-24 year olds to order cosmos and make out with strangers on the street.
What a different world stares at me in NYC today. My hatred for conservatism remains unabated. I experienced 9/11 up close, and then watched a bunch of moronic right wing con-men use it to manipulate the rubes for a decade. What damage to this world a bunch of sexually repressed angry old white men have caused. Throughout world history, if you think about it.
But that is all in the past. Well, sort of. But it is a fairly beautiful Friday on 1st Ave. And so I sit at a coffee shop and oggle aspiring model/actresses walking their tiny yapper dogs on 9th street.
Here's your links:
Your HCwDB Kindle Book of the Week: "As Mel said to me, he wanted to make a movie that would 'convert the Jews to Christianity.'"
Ever wonder what a typical day in the Los Angeles life of the DB1 is like?: Robert Blake staring at me by the turkey carving station at Gelson's.
Speaking of the 90s. When nothing was going on.
CNN covers the Hipster Olympics. To quote Jon Stewart, this… is CNN?
Bleeth runs for the Senate. It's like a bad early 00s Reese Witherspoon chick flick, only without a Wilson brother.
For the foodies among us, douche mocking now includes a restaurant offering a douche burger. The $666 price tag is pretty genius.
Jesse Pinkman was once on The Price is Right. Gives new meaning to "Showcase Showdown."
Even the legendary and forever nottabag Snoop Dogg challenges Rockstar Leniency Rule by calling himself Snoop Lion.
7-11 now has a mashed potato vending machine. And it is awesome.
But you are not here for mashed potato vending machine. You are here for pear. And so here's some un-NYC pear for you:
Attitude that you would put up with. Because you deserve it.