Friday, July 20, 2012
Friday Thoughts and Links – Rare Late Night Edition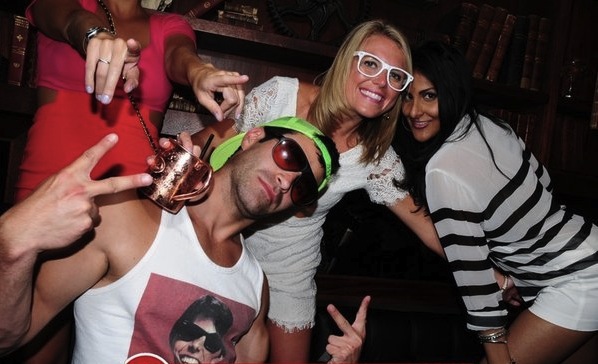 Pay no mind to Silly Frames Fanny, or her mangina I'll call "Dude Who May Or May Not Be Wearing A Shirt With His Own Likeness Emblazoned Uponst It" (DWMOMNBWASWHOLEUI, for short); neigh, I say… let us move on to Friday Thoughts and Links, DarkSock Edition. And by "DarkSock" I mean "Light on Thoughts, and later than Adele's period).
First, on a somber note, tragic news about the loss of the mother of former regular Plinky; his mom perished in a freak skydiving accident, despite the heroic efforts of her OB/GYN to revive her. I'm just grateful that I had the honor of meating her.
Also, while there is some conjecture as to DB1's absence this week, allow me to enlighten you as to what he's really off doing… It just goes to show; everyone in Los Angeles is insane.
In fact, after meeting DB1 in person I suspected he may be suffering from Assburgers Syndrome.
This week's movie pick: "Donkey Poop…How rare!!!!".*
*Warning…You will be dumber for having seen this.
Well…time to address the 800 pound gorilla in the room. It really chaps my ass that many of you couch potatoes are only enthused when I helm because I supposedly offer Gratuitous Ass Pear.
Such as, for example, the glorious Gabrielle pics that Vin Douchal shared with me, featuring numerous prurient poses which I would NEVER post to this site, other than for purposes of this eloquent defense of my integrity.
Well, gentle readers, not THIS Dark Sock. I have True Grit.
Besides, even if I did post gratuitious pear, thanks to Title IV I'd be obliged to post something for the female regulars such as Nancy D, such as subliminal peen I happened to pause upon during a pee break during the opening title of last week's True Blood…you see a show for 4 or 5 years, ya think you'd catch a subliminal orgy right under your nose…
Them's your Friday Thoughts & Links, post-bed-time-style.
Son.