Friday, July 6, 2012
Mr. Biggs Stalks the Stokke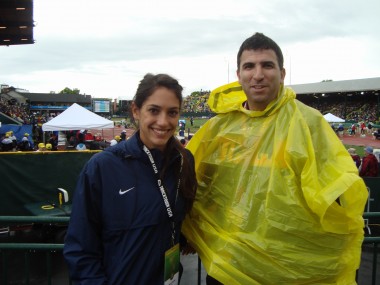 HCwDB Hall of Mock genius and supreme 'bag tagger, Mr. Biggs, goes on a mission to stalk the holy Pear that is Stokke, and came back proudly with the following report:
——————–
DB1,
Allison Stokke showed up right behind me at the track trials, and agreed to have her photo taken with me. Verily the God of Abraham has smiled upon our audacity. Either that, or I am that savant type of stalker who just knows instinctively where his target plans on showing up.
– Mr. Biggs
——————–
Truly supreme work, Mr. Biggs. And may all hail the Hottest Pole Vaulter since Claire Witzerbottom took the prize at the 1854 World's Fair.