Wednesday, July 25, 2012
Reader Mail: HCwHD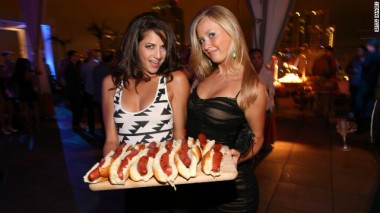 ————
Dear DB1
I've attached a picture that has me concerned. As a cheeseburger I feel threatened by this photo and hope this is just some fad and not some new disturbing trend. I mean seriously where's the love for the cheeseburger?
but on another note, hott in the black & white top looks like this isn't her first go around with a plumb, juicy hot diggity dog.
Pic came from this article discussing faux geek chicks, which I agree with. Fake eye-wear is wrong!!
– John Largemans Cheeseburger
————–
Hot Dog penis jokes are as old as the day is long, and as swung as the shlong is hung. That being said, good work JLC, for as old, swung and schlong hung as hot dog penis jokes are, they still make me titter like a tweener on twitter.
However, there is room for only one top dog. And his name is Nick.