Monday, August 20, 2012
Ask DB1: Whither the URC As a Totalizing Icon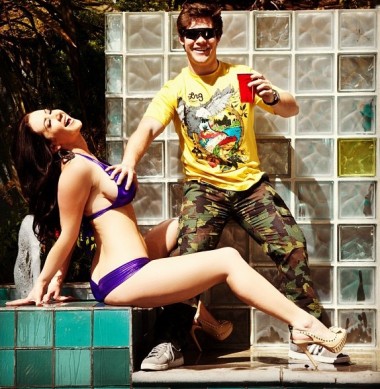 ————-
DB1,
I have several questions about Red Cup (and Blue Cup, Yellow Cup, et. al).
I've noticed that Red Cup's SOP is to watch pensively.  Does Red Cup do anything else? Does Red Cup stare in hopeless infatuation with Hott? Does it look disappointingly at bleethed-out skank? Does it look on in contempt at tatted-up GSR douche? Or does he only watch pensively?
And, if Red Cup is so ever-present among douchebags/hotts/bleeths, is Red Cup not douche in and of itself?  As Seinfeld once said, adjacent to refuse is refuse.
Yours yet again, yada yada yada, you know how I sign off these missives,
Dan
————-
The URC (Ubquitous Red Cup) is a totalizing signifier. By this, I mean that it orients the douchal pattern, operating much as a test grid or color bars do in assisting calibration.
The URC reminds us of the purity of primary color and the simplicity of the agency of the primitive tool, at the same moment it operates in stark contrast to the post-structuralist explosion of commodity that marks douchebag in pursuit of hott.
The URC is never douchey in and of itself, since it reminds us of the purity of essence beyond the specificities of cultural marker. In other words, the URC reminds us of essence beyond culture. Color. The act of drinking. The achievements of the human race over the elements.
In so doing, URC only further heightens the repugnance of douche poo making booble fondle.