Saturday, August 11, 2012
Comment of the Week: Dude McCrudeshoes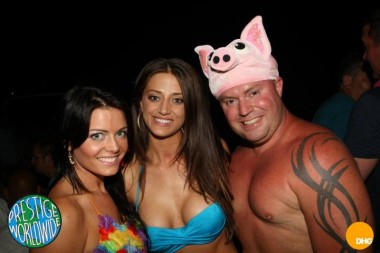 Dude McC doesn't quite get the math right, but does an excellent deconstruction of the sexual proclivities of the Olympic village, and wins the coveted HCwDB Comment of the Week.
Alls I know is would lightly rat-a-tat "Hava Nagila" on Semitic hottie Aly Raisman's glutes with two elongated licorice sticks and a battery powered metronome. And no, that is not a euphemism for the peen.
———–
Olympic Math:
There are about 10,000 athletes living in the Olympic Village. 10,000 of the world's fittest bodies; young people at the high point of their lives; and slightly carnival atmosphere are going to lead to a little bit of sex. But how much?
The London organizers like to be prepared (in every sense of the word), and expect to hand out 150,000 free condoms. Is this ridiculous number? Apparently not. Sidney organizers went through 70,000 in just the first week, while Vancouver organizers said their 100,000 did not last the whole fortnight.
So 150,000 seems a reasonable number. If you ever thought you had the makings of a world class athlete, but neglected your training, here is what you missed out on: 150,000 condoms for 10,000 Olympians works out to 150 per athlete. But wait… presumably athletes are not using them for 'singles sports'. No, this is usually a doubles, or even triples, event. Just sticking with couples (no reason to get all kinky), this means every athlete is expected to get busy 300 times over the 2 week period. That's over 21 times each day; or roughly once an hour if they restrict themselves to just 3 hours of sleep.
Consider for the most part that people have just met, and you have to condense small talk, flirting, petting, foreplay, and monkey sex into each one hour block. Each athlete is engaging in a CONSTANT, ahem, marathon, of sexual escapades. Kinda makes you want to pick up a ping pong paddle on your way home, doesn't it?
———-