Friday, August 10, 2012
Friday Thoughts and Links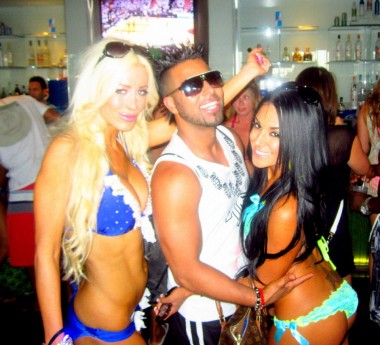 Your humb narrs is now in Boston for a little family time. Dunkin Donuts coffee will be consumed. Oh yes, it will be consumed.
The legendary 'Sock has graciously agreed to step in and keep you entertained next week while I troll through the traumatic memories of the teen years and search for Rosebud.
The mock must continue. Oh yes.
King Douchuous the IV and the Bobble Blondes would have it no other way.
Here's your links:
Your HCwDB Classic CD of the Week: "I met my love by the gas works wall, Dreamed a dream by the old canal, I kissed my girl by the factory wall, Dirty old town, Dirty old town…"
If you're a fan of the card games, but aren't sure about which sites are legit, give pokerblog.com a checkout. It's also one of HCwDB's friends, so it's a good cause, too.
Eagle-eyed Hector tags The King desperately trying to get his fledgling acting career going.
Another eagle-eyed reader, Derek catches a true 100% purity of douche trying to get a job on LinkedIn. "I basically worked here because the girls were hot" for the win/loss.
A bunch of Gwai-Lo Bros get matching Beef with Broccoli tatts. Attempts to locate a self through the iconography of foreign culture continues among the spiritually broken.
Here's a depressing read on the legacy of Zyzz, aka Mecha Hineyho, in Australia. Rape, ultraviolence, and Beethoven, without the Beethoven.
From the mixed emotions department: Mohawk Guy helps land the Mars Rover.
The technology changes, but the douchebags do not.
Someone named Bill Schultz, who hosts a show on Fox News called Red Eye, is apparently a violently nauseating Grieco Bag. Yeesh, what a greasy maroon.
America's youth. Still shoving vodka-soaked tampons up their butts.
The Olympics are almost over, but I'm still recovering from the fact that Ryan Lochte wore a grill.
But you are not here for endless Olympic references. You are here for pear.
And if that ain't enough, try on some
And life suddenly has meaning and worth again.