Friday, August 31, 2012
Friday Thoughts and Links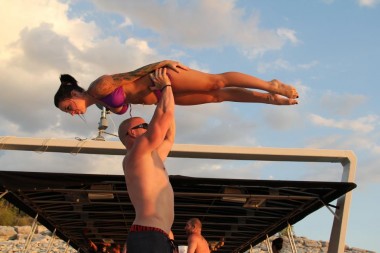 I realized yesterday, as The Jersey Shore enters its final season, that days go by where my mind blocks out that I am ultimately responsble for the world knowing the name "Snooki."
I am in denial.
The mocking of 'bags has brought me much important positive Karma for my Buddhist afterlife and rebirth. So Vishnu told me, by way of Elijah, at the last interfaith Seder.
But I must still make penance for the great cardinal sin of my 'bag mocking leadership. The poo stain on my flag. The shaming of my ancestors.
The Snooki Baby will be stopped. By my future child. In an epic battle. With way too much CGI. And a wacky robot sidekick.
Here's your links:
Flight of the Conchords reunites for charity. Brett? Check. Jermaine? Check.
My kingdom and a bottle of Charles Shaw wine to anyone who can explain this pic of Kisseus Vomitorious and Margaret. Regardless, they's making a serious play for HCwDB of the Year.
It's good to see Seinfeld keeping busy these days.
The difference between how men and women deal with breakups is pretty clear.
Bros.
HCwDB regular Mr. Biggs observes a Go Topless protest. In a related story, the DB1's "Shaved Alpaca Pride" convention was not granted a city permit on animal cruelty grounds.
San Francisco coffee shop launches a war on herpsters. Take that, Instagram! Who uses Insta-… oh wait. D'oh.
OKCupid Enemies. I'm thinking of starting "JDateShiksas.com".
This card is a fraud. There is only one King.
Happy Birthday to Paul Reubens, who turned 60 on Monday. He's Sorry He Took the Money.
But you are not here to celebrate the birthday of the great Paul Reubens. You are here for pear:
Not enough? How about
Mmm… like succulent globules of pink booble fondle suckle thigh.