Tuesday, September 4, 2012
Breaking: HCwDB Celebrity Culture Stains Marissa Miller and Some Leechy Goober About to Spawn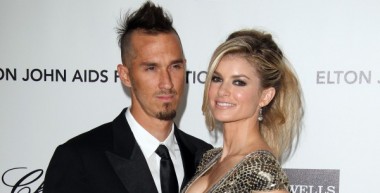 First the Snooki baby, and now this.
Thankfully, ABC News was all over the breaking story of Marissa Miller tweeting a pic of herself swimming underwater:
———–
Former Victoria's Secret Angel Marisa Miller revealed her baby bump to her Twitter followers on Tuesday while celebrating her 34th birthday.
The former model, who is expecting a baby with her husband music producer Griffin Guess, shared an image snapped of her in a bikini while swimming underwater.
"Thanks so much for all the sweet birthday wishes! Love you all! I had the best day and spent most of it under water…," she wrote.
Miller is entering the third trimester if her pregnancy. On August 2 she tweeted an image of herself, writing, and "This was a month ago at 17 weeks. My belly seems to have doubled since! Had to paddleboard to get to this cave.'
Miller joins model Bar Refaeli and reality TV star Kim Kardashian in what seems to be a new trend of women tweeting images and video of themselves underwater.
Israeli model Refaeli tweeted a sexy black and white video ad earlier this summer of her swimming in a pool for her under.me underwear line. In early August, Kardashian tweeted a photo taken of her flaunting her curves in a two-piece. The starlet simply wrote, "Swim good" to her followers.
Miller and Guess, who wed in 2006, are expected to welcome their first child in December.
———-
The next-generation battles of HCwDB Mock will be epic Bruckheimerian spectacles of ridicule and boobie.