Wednesday, September 12, 2012
C-Hott's Adventures in Hott Chickery and Asian Ballerz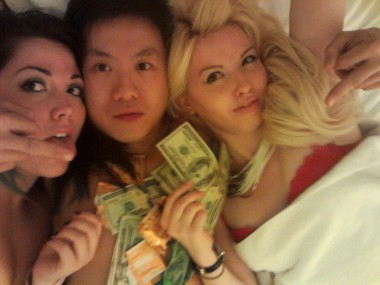 Hottie party girl and all around Vegas adventurer, C-Hott, writes in with a first person account of her adventures in Asian Pimpin':
———-
Yes I'm sadly one of the girls in this picture, it was this great idea of his "Lets have you two on each side of me and I'll throw money around"
the results.. are the following photos
———-
Your intrepid reporter was on the scene with the important and hard-hitting followup questions:
———
Are you the blonde or the brunette?
———
And C-Hott's response:
——–
Brunette. WE are actually engaged now haha. Three cheers for lesbian love.
——–
Of course. Of course you are. Does a story like this end any other way?