Friday, September 7, 2012
Friday Haiku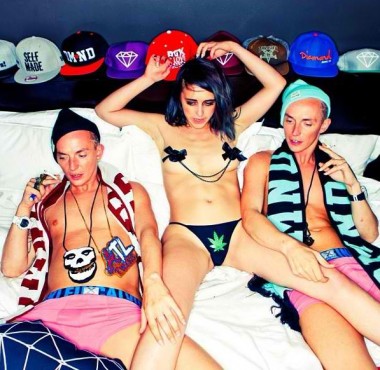 Kandi Kane enjoys
Her new 'bag stereo:
In Douche 2.0
This situation
Has ruined any hope of
Legalization
— Capt. James T. Douche
Even Jane Goodall
couldn't wrap her mind around
this social construct.
— Dr. Bunsen HoneyDouche
The Clit/Hemp combo
Is not enough to rouse twins
Out of drug stupor
— DoucheyWallnuts
She has stopped breathing
Since the gyroscope was put
In her Chronic Hole.
— The Reverend Chad Kroeger
Pot leaf on her cooch
bondage tape on her nipples
Bad choices ev'rywhere.
— Morbo
"After you bang me
Leave your hats on this here shelf.
These are from today."
— DoucheyWallnuts
Everything they wear,
think, speak is branded. Faces
need branding iron.
— Wheezer
Hooker on the floor
Ping ping balls fired from biznatch
Might be injuries
— Vin Douchal