Friday, September 21, 2012
Friday Thoughts and Links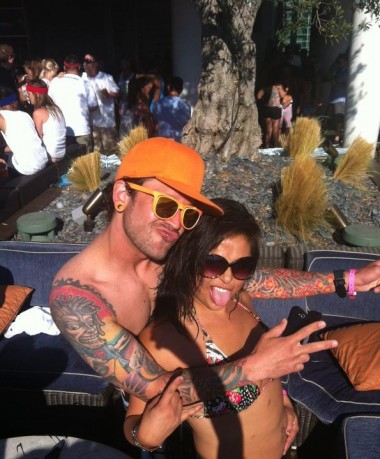 Oh Orange hatted turd and bleeth. How you deserve each other.
Your humb narrs is sipping on a URC of quality Mogen David fortified strawberry and lime wine. To honor the New Year.
I sit my unshaven ass in temple and reflect. And by reflect, I mean checking out the hott Beverly Hills Semitic Suckle Thighs. They of the overpriced bags, dating the overpriced 'bags.
And so my rants continue, but also in a new venue. Lucky Punkass.
Finally live. No idea what I'm going to say on it. Doubtful many will read it. But I need it for my sanity. So there's that.
Here's your links:
"'"What has restrained the beasts of prey who are called men?'"
Malaysia declares V-Necks to be "gay". This is awful, bigoted crap. Mock douchebags for looking douchey, yes. I can support that. But targeting gay people based on some supposed dress code? We should drop these clowns into Jersey and let them try to categorize sexual preference based on clothing. Pisses me off. Even makes me want to start wearing a v-neck as a gesture of resistance. Not that I will. Just sayin'.
The many faces of Cusack. Loooong time readers of HCwDB might remember my trip to the Better Off Dead house back in the halcyon days of '07. Please do not judge my choppy-ass writing in that post, I was still figuring the site out. That movie was perfection. My pilgrimage to Lane Meyer's home was my own trip to Mecca.
Oh, racism on television. Is there no ethnicity you can't mock?
The Champagne Sisters (Katie, Kelly, and Karmen) are nothing but trouble. Boobie trouble.
Next thing you'll tell me is that the obnoxious guy in those 1990s "eat something!" Subway ads was actually Keith Olbermann.
But you are not here for 90s Olbermann. You are here for Pear.
The ripples of a better tomorrow. And, to honor my former life in NYC:
Juicy.