Tuesday, September 18, 2012
Reader Mail: Douche Wayne Tags a Blurry Aquadouche/Aquahott Combo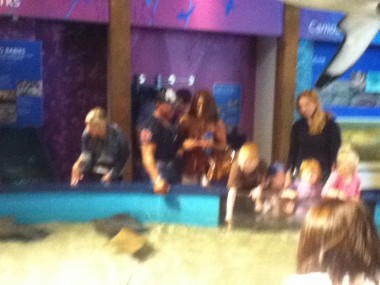 Douche Wayne writes in with an excellent story of a blurry Aquatag:
———
DB1 –
I must first apologize for the awful quality of this pic and I don't blame you for not posting it. I've seen clearer pics of the Loch Ness Monster. Taken by Bigfoot. With the lens cap on. However, the point of this pic is not so much the visual representation of douche, but the location of the Grieco virus outbreak.
Where – The Maritime Aquarium in Norwalk, Connecticut (yes, Connecticut).
When – Pirate Day
I took my kids to visit my parents and attend Pirate Day at the aquarium. I've been there many times growing up and now my kids love it. As you may know I live in New Jersey, so I didn't expect to run afoul of the Grieco virus while visiting my home state of Connecticut.
We were at the new shark and ray touch tank, I look across the water and first noticed boobies. Nice ones. Fake but tasteful, wrapped in shimmering peach-colored strapless silk.
I pegged her for late 30's-early 40's and hot in the face. A bit much for the aquarium I thought, but even rich CT milfs have kids who would enjoy such events. I would have swam across the seal tank prior to feeing time wearing only a codfish loincloth for the chance to pat her hands dry with my youngest child's Huggies Pull-Ups.
I then noticed the "shiny building of a man" standing beside her, kung-fu grip around her waist, LITERALLY nibbling on her shoulder. Inappropriate, yet the bleeth had no qualms about the level of PDA or the countless youngsters bearing witness to it. Decked out in a black baseball hat (you can just make out the ghastly pattern on it in the pic) with either studs or rhinestones on it to hide the receding hairline, the ubiquitous skin-tight black Affliction T-shirt covering his overdeveloped pecs and black jeans covering his underdeveloped chicken legs.
If douchebags were trees, you could tell their age by the circumference of their biceps; he was at least 50, or a weathered 42. As bad as the pic is, you can clearly see his watch and arm tatts.
Luckily, my kids were engaged with a 5-foot nurse shark and didn't notice the gorilla attack going on across the pool.
Most disturbing was that I wasn't able to connect them with any children at the touch tank. Later on when leaving, I noticed them walking to the parking garage by themselves, without any children in tow. I am cautiously optimistic he had not procreated.
I guess even over-the-hill douchebags enjoy a day at the aquarium prior to a fun-filled Sunday night of fist-pumping in South Norwalk. No we know, and knowing is half the battle.
I remain,
Douche Wayne
——————–