Tuesday, September 25, 2012
Reader Mail: The Twenty-Five Pound Watch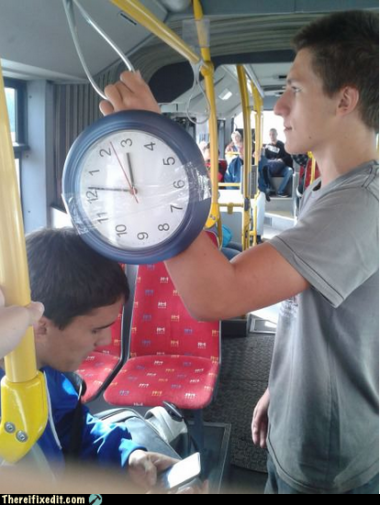 Morbo sends in this pic along with an astute commentary:
———-
DB_1,
Saw this over on the thereifixedit.com blog and felt it could stand for a little internet cross-pollination.
It's the concept of the 10-pound watch taken to its illogical extreme.
Adding to the douchebaggery is the look on the wearer's face. He knows exactly what he's doing. He didn't pull this stunt because he desperately needed to know what time it was and his actual wristwatch was broken, and his cellphone died. This asshole is craving attention, desperately wanting someone to ask, "Hey man. What's up with the clock on your wrist?"
He would then play it off as if it weren't much at all, when deep down he was giving himself a high-five for being so cutting-edge and cool. In fact, I bet this is the third time this week he's worn this thing. Hell, the poor bastard sitting in front of him probably has a Grade 2 concussion from getting conked in the head every time the bus goes over a bump.
I feel like the fate of our long-running battle with douchebaggery hinges on the guy in the seat.
He is The Chosen One, though he knows it not.
If he looks up and asks about the clock, we all lose. Flava Fred here gets his moment of glory and he will lead an army of numbnuts across the Earth for the next millenium. Even a snarky comment means victory for Flava Fred.
If Seat Guy continues to look at his phone, quietly gets up at his stop and shuffles off to work, we win.
Stay strong, dude. Stay strong. We're all counting on you.
—————-