Wednesday, September 5, 2012
Scenes from a New Jersey Kitchen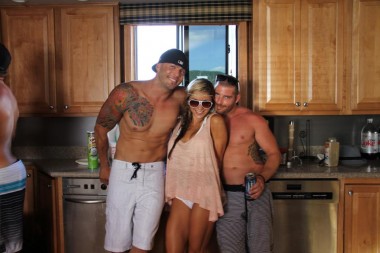 Vlad: Estrago! Is that her?
Estrago: Who?
Vlad: Godottie!
Estrago: Impossible! Is that undies poke over there?
Vlad: Focus, Estrago! We must wait until she arrives!
Estrago: (looking around) This kitchen is-
Vlad: Yes?-
Estrago: -made of plywood!
Vlad: so?
Estrago: It reminds me of one time in the Antilles when I shat on a squirrel.
Vlad: That makes no sense?
Estrago: It does thematically to the audience because it signifies the fractured nature of a nation traumatized by the war and unable to form coherency and meaning.
Vlad: What should we do?
Estrago: Perhaps if we wait a little longer, Godottie will arrive.
Vlad: But what if she doesn't come?
Godottie: Guys, yo! I'm right here!
Vlad: Heavens! This defeats the modernist themes underlying our crisis!
Godottie: Screw that postwar expansion of narrative and start fondling my boobs!
And… scene.