Tuesday, October 23, 2012
20,000 LEAGUES OUT OF THEIR LEAGUE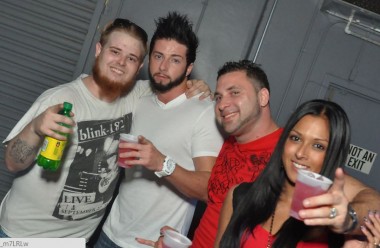 Clem, Tucker and Arlo have reason to smile.
While sporting only the most minimal of douche signifiers and some truly tragic hair, they have still managed to gain the company of Nisha, the coveted, flawless Princess Jasmin perfect quasi-Indian princess hot, with eyes like tiger opals and hair like a waterfall spun from midnight.
Even with points off for bedazzling her fingernails, she's still a 10. Note how she delicately raises her pinky on her flaccid brew of Crystal Light and whatever Grocery Outlet boxed wine Clem found in Nana's pantry, while subtly and simultaneously lifting Arlo's clammy hamhock off her supple shoulders. Smooth. Nisha knows that even bridge trolls have feelings, but she is no one's goat.
And she'll maintain her composure until she sees the sign on the door behind her. Then, 4:1 odds she loses her shit.