Wednesday, October 24, 2012
EVERYONE DIES EXCEPT THE VIRGIN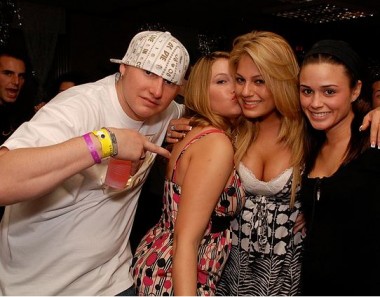 Drawing inspiration from innovations in Ancient Greek warfare, club-going hordes of suckle-worthy giggle hotts have adopted a formation known as "the Bestie Phalanx." By encircling, cleave in, pear out, a group of four to eight hotts create a revolving formation that constantly has its back to the rest of the crowd, repelling all attempts at fraternization while remaining permeable to complementary drinks.
In this particular instance, the Alpha Bestie is overly proud of her shiny cleavite and has asked the fourth bestie to leave the formation and snap a photo for the faceybook. Her hubris will prove her undoing. Phalanx broken, a doughy, hunchback knobgoblin, its hat too low and its hopes too high, has seized the opportunity to swing its ponderous into their personal space in an attempt to invoke Lo-Han, Dark Avatar of Bathroom Stall Handjobs. If the fourth bestie does not close ranks before the goblin starts reciting Nickelback lyrics, all may well be lost.
When executed properly, the Bestie Phalanx displays an impressive aerial geometry, reminiscent of Gustav Doré's depictions of the Gates of Heaven in Dante's Divine Comedy. The main difference being that departed souls rarely make motorboat sounds on their way to the Great Beyond.