Friday, October 12, 2012
Friday Haiku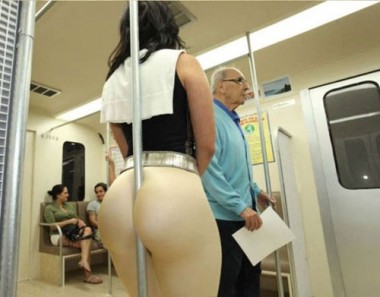 In a subway car
There's all nationalities;
She is a Pole Lock.
Forget Kung-Fu grip.
This bleeth has Ham-Poo clench.
Frees hands for phone calls.
— Dr. Bunsen HoneyDouche
Hey! If Kegels work
for incontinence, 'Poogels'
work for Hershey squirts??
— Franklyn DealorNo Doucheifelt
This young lady's had
So much sex, she now needs to
Keep a place holder
— saulgoode42
"mustn't look" he thought
spandex butt calls like siren
angina flares up
— Douche Springsteen
Monkey hole event
horizon pulls all objects
inward to be crushed.
— UFO Destroyers
Butt eats subway pole,
chews it with her iron gut,
then craps out thumb tacks.
— Troy Tempest
Sometimes you sniff the
pole, sometimes the pole sniffs you
But don't lick the pole
— DoucheyWallnuts
You may have my seat
Old gentleman offers it
Thank you. I can't. Stuck.
— Vin Douchal