Friday, October 26, 2012
FRIGHTDAY THOUGHTS AND LINKS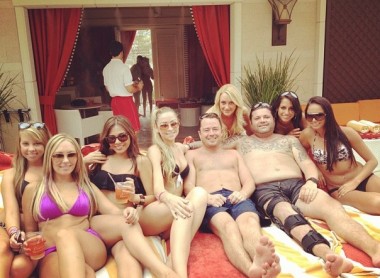 Look at those two kinda regular looking guys. And all those hot chicks. Man, there sure is something douchey going on here. Ha Ha!
Aaaaaaand I'm spent.
But soon, dozens of young ladies in their slutty costumes will be parading their lady business about my magnificent FrightTown. I must rally. For the good of the children.
BVG DVD Pick O' The Week: Oh hidy ho officer, we've had a doozy of a day. There we were minding our own business, just doing chores around the house, when kids started killing themselves all over my property.
Who'm I kidding? I can't pick just one.
In general I am not a fan of horror movie remakes, what with Michael Bay being the Great Satan and all. There are, however, exceptions to every rule.
This will either be the worst movie I've ever seen or the greatest movie I will ever see. Either way, I bet I eat a bullet when the credits roll.
Ahmunna start my Christmas shopping today.
We've talked a bit about slutty costumes going too far, but that is not to imply that I am against sluttery in general. Au contraire. It can certainly be done right.
Perhaps even with a dash of the ol' ultra-slutty.
Another thing about slutty costumes: they mostly come at night. Mostly.
But remember, ladies: when you're preparing your slutty black cat costume, improper tail placement can send the wrong message. Unless you're wearing it for a room of visiting German businessmen. Then you're probably fine.
Werewolves howl,
And vampire bats flap.
This poem blows.
And as long as we're on the subject, you poor readers have put up with a fair share of abuse and an unfair share of my self-absorbed rambling this week. You deserve a reward.
Bah! That couldn't possibly sate you. Open wide, now
and lest we lose sight of the season, Jack O' Pear.
(*sigh*) I guess I'm just a romantic when you get right down to it.