Monday, October 22, 2012
I HAVE SUCH SIGHTS TO SHOW YOU*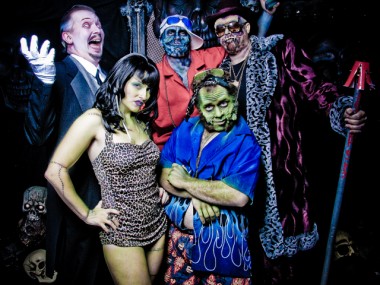 We're hip deep in October, my piggies. The air is crisp and the barometer's dropping. Eviscerated pumpkins festoon our porches, every child in America will kick-start a life of insulin dependence with a pillowcase full of concentrated sugar, and the Christmas decorations have been in the stores for seven weeks. Sounds like Halloween to me.
And so our glorious leader, the DB1, in his questionable judgment and infinite desire to foist this floundering relic of a comedy blog onto someone else's shoulders so that he can enjoy a few days of googling teen quartasian cosplay videos in relative peace, has tapped me, Baron Von Goolo, Master of Horror, Mayor of FrightTown and Hunter of 'Bags, to regale you with a week's worth of douchebaggery so terrifying, so soul-sucking, that your teetering sanity will have less chance of surviving than Kevin James' post-Here-Comes-The-Boom movie career.
That is to say, not much.
Booga booga, muggafuggas.
*scary movie reference