Monday, October 22, 2012
UNNECESSARILY SLUTTY COSTUME OF THE DAY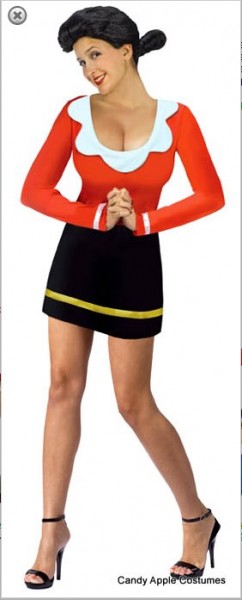 Ever since 1942, when Veronica Lake's portrayal of a steamy sorceress in I MARRIED A WITCH released Margaret Hamilton's hammerlock on witch stereotypes in Hollywood, there has been a subtle shift in the whole zeitgeist of Halloween.
Specifically, that year by year, inch by inch, Halloween costumes for women have become progressively hosebaggier by a factor of (and I'm spitballing here) not less than 2 and not more than 2.5%. This incremental (but compounded) shift was barely noticed during the events of WWII and/or was forgiven as celebrations of key moments in history (such as the immensely popular "Naughty Jonas Salk" costume of 1955), but by the late 1980s, the compounded momentum of this new paradigm had irrevocably altered the way that women between the ages of 14 and 40 perceived Halloween, from a wholesome masquerade intended to keep evil spirits from entering your body, to an overt slutfest with the express purpose of having all sorts of business enter your body.
As an expert on all things tricky and/or treaty, I cannot mourn the old ways. No, I embrace slutty Halloween costumes as the hallmark of progress. But now, with costumes some 390% sluttier than they were in 1942, there are instances where the Whore Train has jumped the Slut Tracks and civilians are in danger. So while you are choosing your slutty costume, please note that it should fall within one of the following categories:
ANIMALS (kitty cat, bear [teddy], ladybug)
MONSTERS (witch, zombie, vampire)
POSITIONS OF AUTHORITY (firefighter, cop, priest)
NAUTICAL/MARITIME THEMED (sailor, pirate, mermaid)
JOBS FOR WOMEN (nurse, schoolteacher, cheerleader)
JOBS FOR MEN (construction worker, lumberjack, President)
HISTORICAL FIGURES (Marie Antionette, Harry Truman, Cleopatra)
And while there are many, many examples of perfectly fine slutty costumes that defy these seven categories, there are many more examples of costumes that should not be tolerated in a polite society, and should never gone beyond being a bad joke in the costume company's break room. Over the next week, we are going to look at a few of these.
Unnecessarily Slutty Costume Of The Day #1: SLUTTY OLIVE OYL
Turning cartoon characters into slutty costumes has an innate creep factor to it that no amount of ironic intent should be able to balance. Although admittedly, if the real Olive Oyl looked anything like this, I could at least start to understand why those two sailors were constantly beating the shit out of each other over her.
Still, failure. If you're old enough to appreciate who Olive Oyl is, you're too old to wear this outfit. Slutty costumes are a privilege, not a right.