Friday, November 16, 2012
Friday Haiku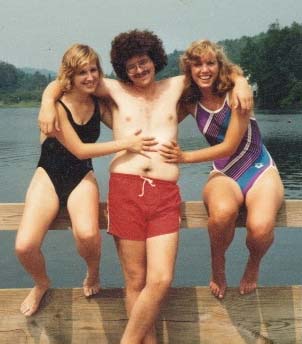 Gabe smiles, because soon
They're knocking him out with their
American Thighs…
Old School Seventies
Gary's Head is not Hairiest
Thing in the Picture
— Flounder
Inhibitions drop
As do standards for sex romp
One time at band camp
— THEONETRUEDOUCHE
One piece bathing suits
Needed to hide huge bushes
Thank god for waxing
~~~~~
This picture is bad
Imagine what porn looked like
When photo was taken
~~~~~
Thick legged women
And guys with fros ruled the day
And people got laid
— DoucheyWallnuts
Before the term douche
was coined, bad decisions were
basic and hairy.
~~~~~
His belly is what
flesh-lights are made of. Keep that
in mind when you fap.
— Bag Margera
It hides the stash
In the fro or it gets the
Hose. The groovy hose.
~~~~~
They don't get the crabs
Since the herbicide was sprayed
On her Monkey Hole.
~~~~~
Next frightening hair
Style after Farrah will be the
Dorothy Hamill.
— The (very) Reverend Chad Kroeger, Esq., Son
High score on Dig-Dug
Banged Orange Julius girls
Peaked in eighty-two
~~~~~
Juan's weenus peeks out
From his epic Jungle Bush
Like a moray eel
— Ich verstehe sie ist heiß
DB1′s dad at
Camp Hayyawannafuckme
brings back memories.
— Dr. Bunsen HoneyDouche
This was taken back
When it was still hip to say
"Lets make whoopie, babe!"
— Capt. James T. Douche