Thursday, November 1, 2012
Reader Mail: Reader Tim Tagged Benzino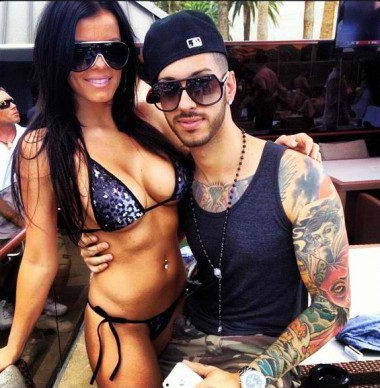 Credit where credit is due:
—————-
DB1,
If one thing is for sure it is the fact I can always tell when I see someone and instantly hate their guts without having ever interacted with them. This is a case of that… Meet "The Benzbag" one of the most diabolical douchebags in the game!
I believe he has been on the site before, if you'll note the image of the violation of that innocent pear with his sloth like hook hands should be familiar. This clown is the Ernst Stavro Blofeld of douchery! Another Las Vegas club wanker who bills himself as VIP host/personality despite the illusion of living the life of luxury. I think we're dealing with a $30,000/year millionaire who is up to his eyeballs in debt to keep up appearances.
You will see he associates with a who's who of douche offenders, Craig Golias aka Peter Pumpinhead, Sunday movie semi regular/idiot wigger Riff Raff, Tatted freak/micro penis sufferer/young and reckless spokes douche Scott Sparks and I believe a picture of him with King Douchius.
Along with that the rest of the atrocity reads like the "Anarchists Cookbook" for practicing douchery, carrying designer murses, having your eyebrows threaded, having your douchey ass facial hair pruned with a straight razor, pretending you're an MMA fighter and an overload of assholery, douchery and general shit headed behavior.
– Tim
————–
Well tagged tim. This Vegasian poo is a strong contender at the 2012 Douchie Awards.