Wednesday, December 19, 2012
Douchiest Celebrity Couple of the Year: Kanye/Kardouchian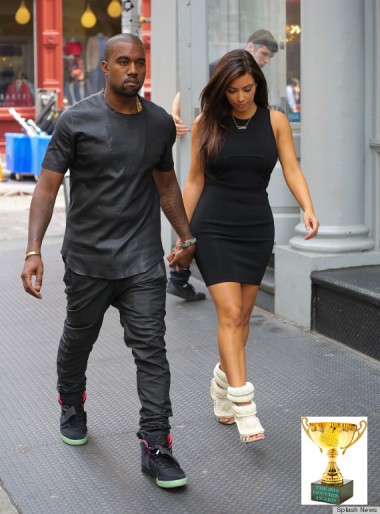 The great Vin Douchal hands out the prize:
————
If'n you don't know who Emily Maynard and Jef Holm are, you are not qualified to pick the "Celebrity Douche Couple" for the 2012 Douchies.
This is a category yours truly was born to own and dominate.
Let's start with the year in review and elimination. Beiber and Gomez, if you're not a pimply 14 year old girl you shouldn't care. For sheer creepy factor Olivier Sarkozy and Mary-Kate Olsen bring the goose chills. Just because your brother is the President of France doesn't mean you can come grab up Ze Amairican Cheeks like some bottom feeding flounder. Got no problem with those May-December romances but the first time I saw a photo of these two together my urethra clamped shut for two days.
Heidi Klum managed to bring even more head scratching than when she married Seal by leaving him for her tattooed douchebag bodyguard. Listen, there isn't a one of us that wouldn't mind eating her strudel even with the thought of following Seal up that trail. Seal's talent is inversely proportional to his ugly.
(Dis)Honorable mention to unmentionable Avril Lavigne and Chad Kroeger, the brother-sister duo Bobbi Kristina Brown and Nick Gordon and their upcoming nuptials (Blechh, I just barfed a little in my mouth), Katy Perry and anyone she picks to hook up with and Taylor Swift and Conor Kennedy (although little is known about this dude, he's a Kennedy therefore Auto-Douche, she's been Bleethed out by Hollywood).
This year's decision presented itself in a bacon wrapped dilemma on a stick. My distaste for these two people can only be measured in galaxies. Kanye West presents the exact talent level of lowest common denominator popular entertainment while Kim Kardasian has no discernible skill of any kind. Having a giant, yet shapely butt may be the only thing she could place on her resume. Also , it's a good thing her parents are rich because it appears she cakes on about $1400 worth of makeup every day on that grille of hers
Punchable Kanye West… Where do I start? The elementary/simplistic/imbecilic music, the unearned cocksure stance, the live hijacking of the Grammys when he grabbed the microphone to say that Beyonce should have won and that they both lost because of racism? This even though he, Beyonce, Herbie Hancock, Corrine Bailey Rae and Rihanna all won up to that point. Whiner. Shrieking whiner.
So let's reward bluster and butts and give the "2012 Douchiest Couple" to two of the most deserving douchebags on the planet, Kanye West and Kim Kardasian.
And Kanye? Get that f'en harelip fixed will ya? You've got enough cash duping 12 year olds to afford it.
——————-