Tuesday, December 18, 2012
HCwDB of the Year
This one's for the whole enchilada.
HCwDB of the Year Finalist #1: Sleepy Jerkenstein and Cindy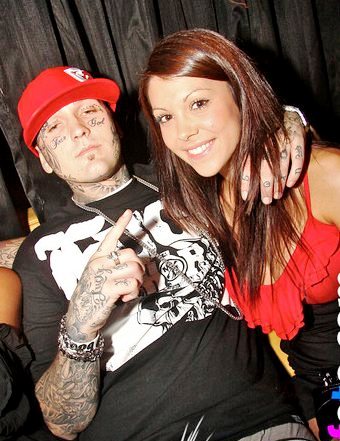 As I wrote last time, the dead eyes of a douche-shark and the tatts of an anal wart were too much to overcome.
And lets not forget Guggenheim 2023 entry, "Innocence and Poo Face."
Barely besting the roidal rage of Orangudan and sexy slutty cocktailing Vegas Kim, with the Groverpocalypse also finding the support, The Jerksenstein/Cindy combo was both doucheface and artistic craptastery.
As Charles Nelson Doucheley put it: Sleepy Jerkenstein is easily the wrongest of the lot. The other two don't create any rage. A tatted up Vegas bleeth deserves some roidhead who can only speak in grunts. Sarah deserves to spend time at Grover's commune (actually, a bachelor apartment in Omaha) until Daddy finds out and cuts off her trust fund.
Or maybe retard said it best: Never before have I been so thoroughly disgusted by the difference between girl-next-door-cute Cindy and choadwank Sleepy. The thought of him pawing on Cindy's funbags is downright repulsive. Fear God as the cheektats suggest? Nah. I might openly question why he allows bottom feeders like Sleepy into our world.
A solid first entrant in the wrongness between douche awfulness and sexy hottness, and well deserving of the finals.
But look who just entered the arena!…
HCwDB of the Year Finalist #2: Benzino and the Unholy Pear Fondle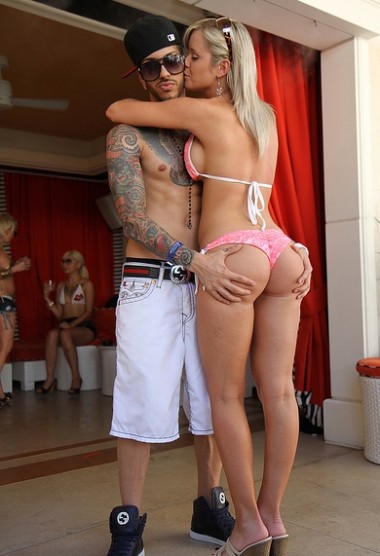 While Larissa may be headed to the Hall of Hott, And Jack the Lipper and Pouty Michaela came close to the upset, Benzino and Pear take the cake.
The Benzbag's run was epic douchery. It began in March and picked up speed when Benzino mugged Soho Sophia in November.
From there:
Benzino's Mongoresque Stare with Party Hotts
And Benzino and Rich Girl Rachel Hott and Benzino and Rich Girl Rachel Hott's Rachels.
And of course, for full douche pedigree:
Benzino with Peter Pumpin'head and Benzino with The King.
Wowza.
That's a lotta Vegas choadwank.
As Guid is Good put it so eloquently during the vote:
Benzino has had the Yearly in the 'Bag since birth. It's like when Tiger Woods was banging a dozen cocktail waitresses at a time, everyone else is just playa'ing for second.
Benizno is purity of douchenozzle like rare this site hath seen. But is Benzino too "Paid to Douche" to win the Yearly? One more major entrant, and the voting shall begin:
HCwDB of the Year Finalist #3: Kisseus Vomitorious and Margaret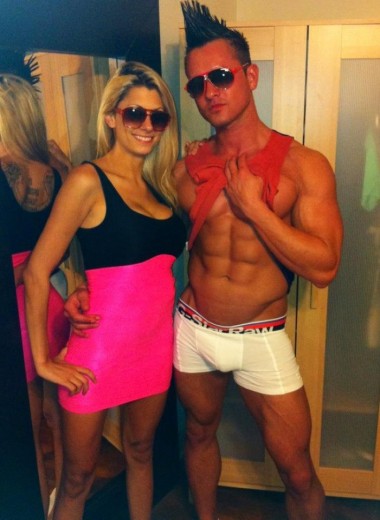 From July, Kisseus had his epic run of grandious putridosity.
Witness the taint one more time: I should've stayed in bed, drunken makeout, Naughty Nape Nanine, fauxhawk spittle, seal nads punch, threesomes with Margaret, toxic Jesus chew, and, finally, a new rose tattoo.
Yeeeeeechhhhhh.
THEONETRUEDOUCHE explains his vote in the thread:
Every year I hate that I must vote in this contest-The contest shows that Douchebagery continues and we have yet to eradicate this plague from the earth. Each year we must resolve to continue that which DB1 began and to wipe from the planet this virus that eats at our soul. We dare not forget today that we are the heirs of that first revolution. Let the word go forth from this time and place, to friend and foe alike, that the torch has been passed to a new generation of Americans—born in this century, tempered by war, disciplined by a hard and bitter peace, proud of our ancient heritage—and unwilling to witness or permit the slow undoing of those human rights to which this Nation has always been committed, and to which we are committed today at home and around the world. Let every douchebag know, whether it wishes us well or ill, that we shall pay any price, bear any burden, meet any hardship, support any friend, oppose any foe, in order to assure the survival and the success of liberty. This much we pledge—and more. Kisseus Vomitorious and Margaret.
Let this be our rallying cry for the 2012 Douchie Awards. For the finals are here.
Jacques Doucheteau agrees:
All the other contenders are amateur douchebags, douching it up like animals on the weekend only to return to a dulldrum life of hawking iPhone covers at the Sprint kiosk in the mall. Kisseus Vomitorious is a fuccen pro. He breathes, eats, and lives douche like Axe is oxygen and Blue Label Vodka is fuccen ass puss. Because he subsists on ass puss. Fucc dat guy.
And, as eagle-eyed long time 'bag hunter Wheezer observes, K.V. also won a 2011 HCwDB of the Week as Tommy Pak.
But is K.V. just another Vegas ass choad? Well, yes. And that certainly doesn't preclude his douchetidue with that level of hott counterbalance from winning the Yearly.
Now I turn it over to you.
The horrors of Sleepy Jerkenstein and Hottie Cindy? The tatted up greasism of Benzino and Pear/Soho Sophia? Or is it K.V.'s idiotic douche-abs and sexy Margaret?
This is it.
Vote, as always, in the comments threads.