Thursday, December 13, 2012
Most Expensive First Date Hott: His-Name-Is-Huang-But-Call-Him-Joe's Roxanne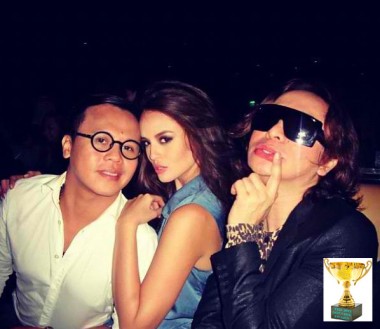 Long-time 'bag hunter Tits McGee does an excellent job and hands out the award for the always painful Most Expensive First Date Hott:
————-
2012 Most Expensive First Date Hott is Huang's Roxanne
You are convinced that you've seen her before, in various lounges and parlors but only when you and your friends go out to the nicer neighborhoods. When you see her, she floats across a crowded floor, glowing, diffracting light at a wavelength different than the people around her as they just vibrate into the wallpaper with the beat of the background music.
No one seems to know who she is. You've seen her talk to dozens of people though you've never heard her voice. Is she an apparition; does she even exist? You fall back into the bassinet of your mind and daydream about her under the blacklight. She must exist, you think to yourself. In essence, she is the most complete depiction of what a meaningful life contains. If existence precedes essence, then she MUST be real… right?
You look up from the back of your eyelids to realize that she has just ordered a drink next to you at the bar. You forget who and where you are. Your identity and self-concept are in tatters. You fail to generate thoughts let alone words, and it is only because of your ingrained male reflex that you offer to buy that drink. She politely thanks you and begins a well-rehearsed recital accounting why she is here and how her weekend plans just fell through.
Every word she speaks fits in its place, every delicate expression she emotes finds warm reception in your ears. It's as if she is reading your screenplay for a part in the story which she, herself, inspired. Soon enough you secure her number and plans for a rendezvous the next evening. You exit gracefully and immediately begin planning the over-the-top gestures you will make in an attempt to stimulate someone whom you are still not fully certain inhabits your plane.
You pick her up and take her to a place where the two of you can be seen together. Her radiant beauty is actually overshadowed by a trained aloofness, and this begins to bother you. You compensate through a deliberate diminishment of your conversation in the hopes that she will relate to it. The exchange has a regular flow to it; she is polite and sends fitting ripostes with appropriate timing. You have an overwhelming feeling, however, that she will not allow you to determine anything of significance about her. She is taking everything from you and giving nothing in return.
The fog of her spell lifts as she click-clacks her heels in a perfect line to the ladies room, leaving you to question why you're acting this way. Why are you letting her dictate the pace of this date? You are an amazing person with funny and insightful anecdotes. You come from a good family and have nothing but estimable years ahead of you. Why are you allowing this sick, ill-advised act of self-reassurance to continue?
On the ride home, you discuss the remaining superficial topics and, even though you seem to have similar interests, you realize that this engagement has a rapidly-approaching expiration date. She thanks you for the evening as you exchange niceties at the door. You kiss her on the cheek and say goodbye. You will never see her again. You call her a couple of times, but no one ever answers. This comes as no real surprise, though, because after all, she never existed in the first place.
A significant part of you was lost that night and you will never get it back. She was not an apparition. She was a drug. She was a mistake. She was a test with no lesson. She was the most painful two-and-a-half hours of your life. You fail to explain yourself even to yourself and begin to fall into masochistic deprecation. You poison yourself with consumption and delusion, lying about how you never cared about her that much in the first place.
You'd do it all over again if she asked you to.
First Runner-Up goes to Moaz's Stacey
Stacy's youth allows her to feign inexperience in the game, but do not be fooled. Her eyes produce the stare of a professional which has the effect of a laser-induced plasma channel. One look at her and you realize that she will have nothing less than the 2001 Caymus Cabernet, nothing less than the off-menu foie gras cinnamon puff dessert, and nothing less than Italian leather cupping her dainty turd-cutter on the ride home. You will spend nothing less than five years telling your friends how you didn't mind overdrafting your account to stare into those eyes for an hour.
Second Runner-Up goes to Vinnie's Monique/Alyssa
Monique is a popular piece. She can be seen plenty of times and goes by multiple names. The hair coloring, anorexic eye-bags and after-market snack trays indicate that, though she does not like very many things about herself, Alyssa is keenly aware that other people very much like parts, er… things about her. She might let you play with the Pointer Sisters, but you'd better OWN the silver mine that bore the spoons in your mouth.
Third Runner-Up goes to Jeff's Angie
Angie has a lot going for her, especially if you like raven-haired, perky-chested spinners with a face that would not only stop traffic, but make it shift into reverse. Her pensive pose and sarcastic smile tell us that she is all-too-hip to the fact that she has the potential to pull someone with the status of Scrooge McDuck. However, at this time it remains just that: potential. deep down she knows that she would much rather just stay in, order a pizza, pretend to follow the NCAA Tournament, and treat her on again, off again boyfriend to a blowie before bed. Bless you, Angie.
————–