Friday, December 21, 2012
The Irving Thallbag Lifetime Douchechievement Award: Xenu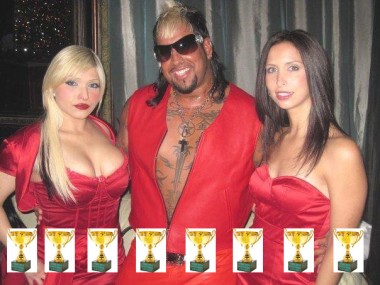 Joey Porsche. The Gator. Fish Slap. Donkey Douche. King Douchuous the IV. Smoot.
And now Xenu.
The last of the Douche Legends from the early days of HCwDB earns eternal (in)glory as forever an icon of primal and epic scrotebaggery.
Let us not forget this epic Douche Warlord of Scientology Lore for its first appearance on this site back in March of 2007.
Further ridiculousness in presence of hotts appeared over the years, including this heinosity. And this one. And this one. Or this one. Heck, for more just check Xenu's pics in the Hall of Scrote.
No tattet up oily behemoth has quite smelled like Xenu over the years.
And for that, we (dis)honor him with a well deserved 2012 Irving Thallbag Lifetime Achievement Award.
Well done, Xenu. Now put Tom Cruisebag down.
(Running a bit behind with all these awards, but the HCwDB of the Year is coming up next… either tonight or first thing tomorrow…)