Friday, January 4, 2013
Friday Thoughts and Links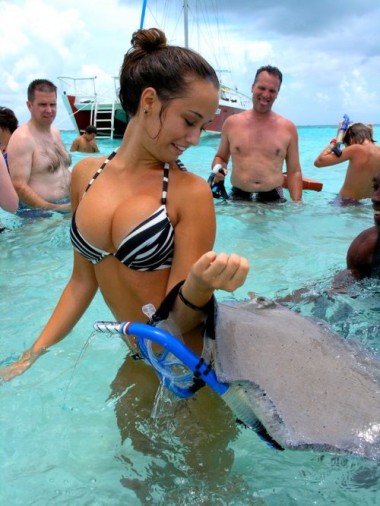 "Stingrays Aluvva thaa boobiesss!!!"
I have no idea why I picture a short, squat, Italian pizza man witnessing this event and proclaiming that sentence with pride.
But I do.
That's my fantasy and I'm sticking to it.
Well, that and this dreamscape from last night.
It's a brave new world here at HCwDB in 2013.
Anything can happen!
And by anything, it means your humb narrs sitting around in his living room, lying on his still-stained rug, scratching his crotch is vigorous vertical motions, enjoying a Yoplait yogurt, and watching Drew Carey sleepwalk through The Price is Right.
Here's no Bob.
But few are.
Remember to spay and neuter your 'bags.
Here's your links:
Your HCwDB DVD Pick of the Week: "Knight jumps queen! Bishop jumps queen! Pawns jump queen! *Gangbang*!"
This geniusness gave me a Jewish Comedygasm. And have you tried getting borscht stains off of your pants? (done in Seinfeld voice)
Have a young daughter? Want to turn her into a Bleeth? Now there's a kit!
Save the Horses! Sex and the Ponies?
Oompa Loompas wanted for crimes in the U.K. Joey Porsche wanted for questioning.
Okay, enough of my shenanigans. Have some Pear:
Or as I like to call it, Ups.