Friday, January 18, 2013
Friday Thoughts and Links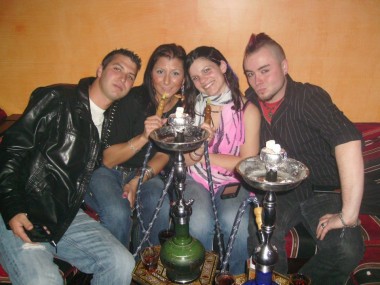 — Insert standard hookah/hooker joke here —
Nice hair, Vazquez. May all your tacos be taint.
So, yeah.
HCwDB's rocky journey into the future continues. Bumps and crashes. Bumps and crashes.
Kinda like when I snuck into the Limelight as a teenager in NYC in the early 1990s and unsuccessfully hit on a sexy Long Island princess while "Groove is in the Heart" was spun by the DJ. Nothing worked right after that. I blame the bubble room.
Who the hell knows where the site goes in 2013. I sure don't know.
Is it fun anymore? Is it funny?
Do actual blogs even have relevancy in a customized scrolling world of feeds and lists?
Sheeeiiiittt..
Wells, I can always drown my sorrows in some wood grain.
Here's your links:
Your HCwDB Depressive DVD Pick of the Week: "Mommy? Why is Steve Guttenberg in this? I thought it was a drama?"
In Ole' Miss, the URC races alone.
The Greatest Cotton Candy in the World.
Bagimi. No I don't really get it either.
In groin-shaving news, Bikini Waxing Decreases Pubic Lice. So I got that going for me.
The Mayerbag is still trying to redeem himself. Still eternally damned to douche mock.
Okay. I got nothin'. So lets get to the goods:
Doughy but in all the right ways. Or perhaps Poppin' Fresh?