Saturday, January 12, 2013
Reader Mail: Ed Hardy Heading to the Trash heap of History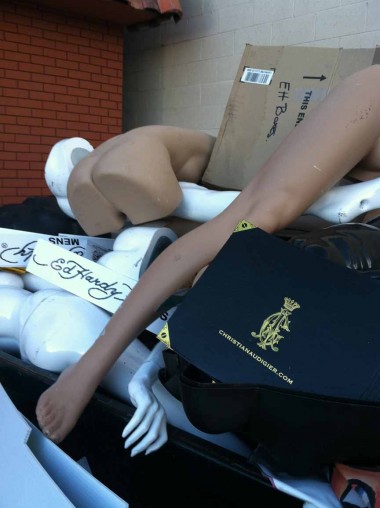 Ed Hardy Har Har! writes in with a report from the front:
———
Subject: Hardy Trash Heap!
My offices are located in the warehouse part of downtown Vegas (i.e. where all the strip clubs are). Story was the adjacent warehouse was rented by the fine folks from Christian Audigier.
Not too much went on there, except once a month or so, you'd hear the sound of a large mosquito or a small lawnmower outside the warehouse and some piece of crap Honda would pull up and a Circus AssClown Car would pull up and unload a DoucheSquad who would rustle around and then take off a few minutes later.
Then on New Year's Eve, a helluva racket out in the parking lot. Looked out and the DoucheGaggle were throwing mannequins and "Hardly" paraphenelia across the parking lot in the general direction of the garbage can.
When there was finally silence, I went out to investigate. I knew I had to capture the scene for HCwDB. I'm pretty sure that picture #2 is a still life destined for the Guggenheim.
Best moment? When the local homeless guy who pushes his shopping cart around the neighborhood trash pickin' rolled up, and says "What is this stuff?" And leaves without taking ANYTHING!
Ed Hardy Har Har
——
We are winning.