Thursday, January 31, 2013
The DB1 on a Thursday Morning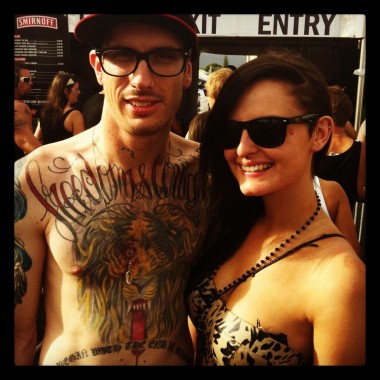 No, that's not me in the picture.
If I were to get a giant tattoo on my Jewish ass it would feature only a giant bagel with lox on it taking a dump on the corpse of rotting Zombie Hitler.
Because that's how Jewtatts roll.
That, or I'd get a tatt of Kelly's bazongagongs as an ironic commentary on sexuality and patriarchy, causing gender confusion among our children for generations to come.
But I digress.
So. This morning. I woke up. Fell out of bed. Dragged a comb across my yadda yadda.
And for those of you who have ever dragged a comb across your yadda yadda, I don't recommend it. You get the bristles stuck in the prickles!
Baddaboom!
Gold, Jerry. Gold.
I had some quality hot and squirty Donut Shop K-Cup action
.
Then I had nothing to do.
So I neutered my ferret.
No, not literally.
My actual ferret, "Mr. Pancho," remains a virile and passionate lover.
No, by "neutered my ferret," that's actually an expression from the Victorian era that refers to the act of torturing street urchins who fail to chimney sweep in the proper counter-clockwise direction.
And on that non-sequitor, I head for more coffee.
Whaddaya want, brilliant prose? The site's free, bub.