Tuesday, January 8, 2013
Wallnuts After Dark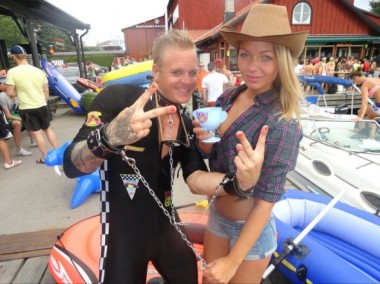 Welcome to the first installment a my new feature here on HCWDB, "Wallnuts After Dark." I figures since I gave Hef the idea for his show back in the 50s, and the title for it that he didn't use 10 years later, I might as well use it now since he ain't.
So anyways, I'll be usin' this regular feature here to tell stories from back in the day, give my thoughts on how things have progressed over the years, and tellin ya about what we drank, what we wore, how we was, and how all a that differs from what's goin' on now.
Bein' I'm a raconteur, I have some great stories for ya.
So, speakin' a Hef, there was no guy who worked harder to "class up the joint," as we used to say. Class, that's one a them things that's missin' today. When you get some time, check out Sammy on this here video from Hef's first show, "Playboy's Penthouse"
Now, I was flippin' through the channels the other night and I came across that benefit concert they had for the victims a that f@#kin' hurricane we had back there in October. Now, on the good side, these organizers or promoters a today are real civic minded, you see. They got this thing together licketty-split and got all a the big names to pitch in, even the ugly, too-old British guys.
Now I make fun a the old Brits but back in my day, the boys never would a gotten together to pass the hat for a bunch of unfortunates. No way, not never. Sure Frank ponied up with cash and gave tons a dough to hospitals and for sick kids and all kinds a stuff like that, and some a the gang was generous to charities and whatnot. But a free concert? Never would a happend.
So I was watchin' that Who group, or whatever the f@#k they're called, and I'm rememberin' them from when they was young punks and had that wild kid playin' the drums and they would wreck hotel rooms and trow TVs off a balconies into the swimmin' pool, and I says to myself, "Wallnuts," I says, "these guys finally growed up."
One time Frank, Buddy Rich and I got went to go see these kids play at the Whisky-a-Go-Go. Frank and Buddy would sneak in the side door and watch these new rock acts from where nobody could see them, and then talk to the guys after the show. Frank and Buddy hit it off with the Daltry kid and the drummer, and got these young kids blowed by some real dames.
These Who fellas had been boning every dirty, hairy hippy chick groupie they could shake their joints at, but after Frank and Buddy got them dames who was all shaved up down below, they startin' demandin' these groupie broads clean up their Snappers.  Clean up their Snappers, I says. They used to come to watch Frank and the guys, but they kept it real quite-like so their fans wouldn't think they was squares.
Back to the other night. After Who finished this other guy called Kanton West or some f@#kin' thing, comes on stage wearin' a skirt and starts with this jibberish that ain't even rap and certainly ain't no kind a music. I mean I like the Sugar Hill Gang, Kurtis Blow, LL Cool J, Run DMV, De La Soul, Snoop and those white Jew kids the Beastly Boys or whatever the f@#k they's called, and some a these other young talents who create stuff that sounds like music, but this was just a cacophony.
Cacophony, I says.
Which brought me back to thinkin' about Sammy and how he could mesmerize a room full a people whether there was 20 or 20,000 people, no matter what color they was. Somebody needs to tell that Kenyon West character to take a powder. Don't no one need to hear that. Am I right when I say that? God forbid someone tells this jamoke he's piss-poor and needs to cheese it. This Mo-mo carryin' like this is an insult to all a the other class acts out there who is actually good.
——–