Wednesday, February 13, 2013
Love in the Time of Collar-Up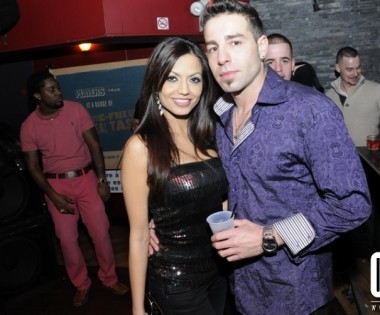 Here's a story that can only be understood if the entirety of symbolic meaning is taken into account.
First we have Groovin' Brothabag Woody in the pink leisure suit. Groovin' Brothabag Woody is our spirit guide, our shaman, our subjective interloper in the spirit world.
Then we have our protagonist, Silk Shirt Steve. A stage-1 or stage-2 'bag for the lip pubes and sleeve fold maneuver.
Our heroine, delightful belly spankle pooch fondle Samantha offers all that angels sing in cherubic medieval butt revealing harpsichordian song. Hers are the earlobes that I would wistfully tickle and clasp with knock-kneed knock knees. Her black dress sheen promises a reveal of nakedness that far surpasses anticipation, one of the rarest of joys in this cold and chaotic world. I would fondle. Indeed. Oh yes. And oh yes.
And then, our Collar-Up antagonist, Earl. Who is ironic. And drinks PBR. And has just taken headshots in the hopes of getting cast in a Heineken commercial.