Saturday, February 9, 2013
Wallnuts After Dark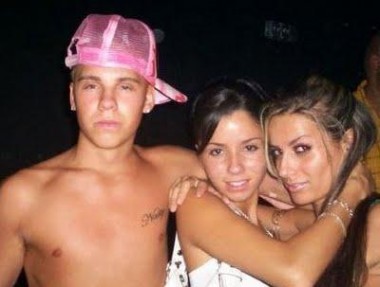 Madonna Mia! I just read a story where some guy who works for the government is getting jammed up because he farts too much at work.
I mean, what kinda pazzo, mixed-up world is we livin in where a guy can't drop some Wolf Bait when the urge strikes?
It's not like he was Bangin' Down a Stiff Lucy, for Chrissakes.  A Stiff Lucy, I says.
I can think a some pretty famous folks who'd be outta a job if Blowin Kumquats was some kinda disqualifier. I remember some a the biggest stars in the world who had some a the most terrible gas you coulda ever smelled, and yet nobody said nothin. It was a weird kind a code where it would be okay for a guy to float a Rotten Air Biscuit, but then it woulda been considered outta line if another guy said somethin' about it in a complainin' kinda way.
One time this wise guy Jimmy the Beep, who was from the Midwest and was a Button Man for some a the families back there, came out to Hollywood as a guest a one a the big movie producers who was into the mob for some serious shcarole.
So we was at a gig at Frank's in Palm Springs and Henry Silva let fly with a really loud and odiferous Neapolitan Butt Belch, and The Beep starts carryin' on like he just got shived in the shower at Sing-Sing whilst gettin' boned up the shoot for bein' a f@#kin' Wise Guy. Odiferous, I says.
So Silva, who was a legit tough guy, walked over to the Beep and slapped him in the mush and tole him there was dames who was tougher than him, and who did he think he was actin all c@#ty over another guy blowin' heat. C@#ty, I says.
Everyone held their breath waitin' for The Beep to rip out Silva's larynx, but he backed down. Plus Silva laid down another Methane Brick whilst he was face to face with the Beep. We didn't never see The Beep again.
And you don't even know what kind a pollution that was bein' snuck out by some a the choicest skirts in all a Hollywood.
Janet Leigh was known for Cuttin' Walnuts whilst doin the deed and would Queef like an old Studebaker with a clogged intake valve, with regularity.
Some guys loved that noisy shit.
That's one a the reasons that half-a-Finnoch Tony Curtis married her.
——————–