Friday, March 1, 2013
Friday Thoughts and Links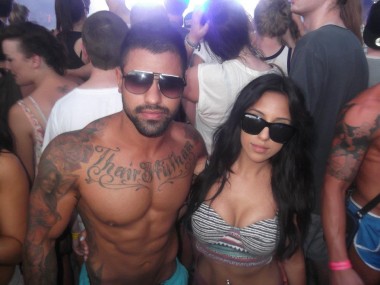 And there it is.
A bored pec-tatt zombie stumbling through life like a retarded yeti in search of primordial boobs, living the unthinking, unexamined life of the basest kind.
And there are the boobs of deliverance.
The comedy of life continues.
So your humb narrs has become ridiculous infatuated with peanut butter and jelly sandiwches of late.
Theories abound.
Is this a need to return to the comfort foods of childhood?
A way of satiating the stomach with consumptive innocence as an act of resistance to the deepening sands of time as they pass by?
Alls I know is a good PB&J on toast, washed down with some Dr. Pepper, is what makes life worth a'livin'.
It smacks the wildebeasts of depressive discourse away.
It holds back the raging, surging waters of ephemeral turmoil.
And so, for that, I munch.
Here's your links:
Your HCwDB DVD German Expressionist Silent Film Masterpiece Pick of the Week: ……… (no quotes because it's a silent film)………………
Would you say… I have a plethora of pinatas?
Married? Bored? Here's one way to spice things up.
For the Girls fans among us (and you know you're out there), Lena Dunham pwned.
Tag Bodyspray goes down!! We are winning.
The DB1 finds blow-up satisfaction.
Surprising no one in the history of anything, a Miami-Dade Prosecutor turns out to be a… you guessed it.
Oakland defensive tackle Desmond Bryant perfects the art of the Doucheface Mugshot.
Aussie Douchebags. Just like American Douchebags, but much more polite.
And in other news: What Girls Gone Up must Girls Gone Down.
But. Alas. There can be only two loaves of perfection:
You're welcome.