Saturday, March 2, 2013
Wallnuts After Dark – Manscaping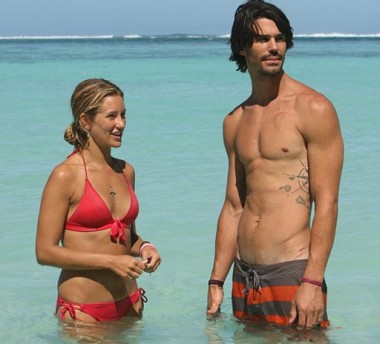 What's with all a these guys that don't have no body hair? Is it possible that in a generation guys went from bein' hairy like a man to bein' hairless like a kid or some weird plastic doll? It don't look right.
Now don't get me wrong, an overly hairy guy ain't too good to look at, and I'm sure no broads love to have that hair shirt all rubbin' up against their gazongs when they's doin' the nasty all slows-like. But NO body hair for a fella? That ain't natural.
I s'pose us boys used ta kinda sorta "manscape" back in the day. Especially after the watershed Miami Shaving Party that I tole all a youse about a while ago.  Ain't nobody want to see all a them Gabiles on a guy or a chick. I remember the first time Sinatra tole us all about how he trimmed his chest hair and his down below areas. We was all shocked because that was the kind a stuff only Finnochs did back then, but we was all ascared to say anything like that to Frank. But once the dames saw it and we realized they liked it, we was all about cleanin' up ourselves down in the underbits.
I remember one time Normy Fell hacked up his joint pretty good trying to trim his Gabiles with one a them old school Wilkenson double edge razors that we all used to use back in the day. You could a cut down a friggin' Sequoia tree wit one a them razors they was so sharp. You needed to be delicato down below and old Normy paid for it for weeks. He couldn't bang no broads with a nicked up schvantz. Nicked up schvantz, I says.
Now, another ting, some a these guys back then didn't have the greatest bodies, but they at least looked like men's bodies. These days some a these guys with the shaved bodies look like one a them, whattaya call, Hermaphrodities that's got both a joint and tits and even a twat.
Imagine that.
Buddy Hackett would a banged a Hermaphrodite and never minded it had a joint. He banged anything.
When it came to hair on our heads we had to be real careful what we said since Frank was always wearin' a rug. God forbid somebody made a comment about anther guy wearin' a wig, since Sinatra was always tapin' a piece to his dome. Oofa.
This guy Scungilli Phil, who ran numbers for the Gambinos, had a few drinks too many at Toots Shore's one night and called Sinatra's toupee a bath mat. He thought he was being funny. No one ain't never seen Scungilli Phil after that.
Frank was always jealous of Dean's hair. Ole' Deano had a full head of thick, black sheen that he'd grease all up to the nines like one a them Chinese dandies that used ta run numbers at Caesar's back in the '30s. Chicks was always runnin' their hands trew Dean's coif. Meanwhiles, Frank never would let no dame come near touchin' his head. Ole' Blue Eyes was afraid they'd knock his toup off his dome. Dome, I says.