Tuesday, March 5, 2013
Wallnuts After Dark – Oscar Night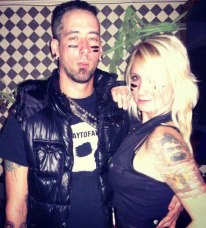 A four hour show where they do nothin but give out awards for some movies, most of em nobody ever seen? Pazzo! Back in the old days it was a get together at one a the Hollywood-area hotels, they'd toss out a few statues, snap some pictures,  and then get on to the gropin'. Gropin', I says.
Back in '53, Sinatra'd just won the golden shvantz for "From Here to Eternity," and they trou one a the biggest, wildest orgies I ever seen! That was the year Eva Gardner was also nominated, but even them legs didn't win it for her. She was in some movie I don't remember. Alls she did was show her knockers in a low cut dress, or some shit. She wasn't much of an actress. Just knew who to shlamouli to get into the right pictures.
So anyways, Eva and Frank got into a knockdown drag out fight because Eva thought Frank was notching Donna Reed, his co-star who also won one of them golden shwantzes. Eva was extra whacked that night cuz she lost and knew Frank was making the Beast With Two Backs with that goody-two-shoes Reed. Reed was another one of them dames, you know the type. All prim and proper in public, but absolutely filthy in bed. Filthy in bed, I says.
So ole' Bill Holden had the party that night, since he won the golden shwantz for best actor. Holden was an all-time lush who used the Müller Lyer Illusion Test to determine if he'd bang a broad. Hey, how in the hell am I supposed to know why?
Anyways, Holden used to just take it out after a few martinis. Didn't matter who was there. The night of this shindig, he has it out and is holdin it in one had and wa slapping the head of his Golden Shwantz with the head of his Golden Shwantz. Know what I'm sayin'?