Thursday, April 25, 2013
Ask DB1: The Bleeth/Baguette Dichotomy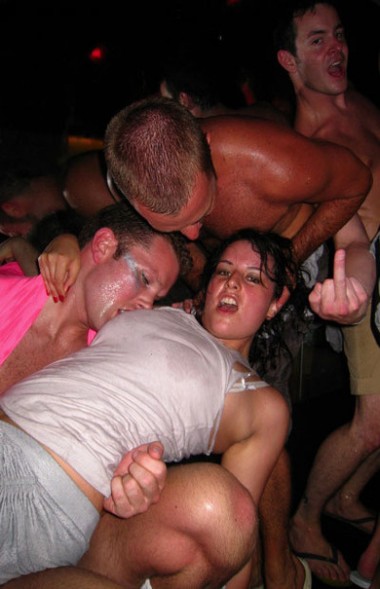 ——
This picture begs the question: Can a female be a douche? Or is the evidence of a rampant Bleeth-soul-infestation (coke/meth'd out expression/plaything to smeared-mascara-lit-to-their eyeballs-party-choads) enough to condemn her for her poor recreational choices while, at the same time, praying for her soul?
For as much as we want to save the Bleeth, we must use equal efforts to mock the slime who tempt and destroy them.
But something tells me this young lass had as much to do with her dignity's defenestration as any of the dudes in the picture. Thus, must she be considered every bit the douchebag as the dudes — just as she must have been considered a likely candidate for a double or triple penetration sometime later in the evening depicted.
I will take my answer off the air.
Choad the Douche Sprocket
——
Not all Bleeths can be saved. As mentioned in this bestselling book of 2008/2009, stage-3 and stage-4 Bleeths are beyond hope, and should be mocked in accordance with the proper bylaws of standard douche mocking.