Wednesday, April 17, 2013
Boston Thoughts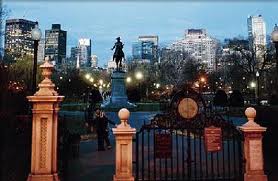 I'mma take today and post a few thoughts on Boston. It's going through a tough time right now, not the least of which is because Boston is a fairly reserved, conservative city, despite its politics. It is a place and a people with a loooooong memory. Hundreds of years. Events like this are not taken lightly.
It is a great city. But also a cold city. A troubled city. And a proud city. A torrid mixture of provincial pride, residual racism and puritan-era repression, yes. But mixed with a community of intelligence, historical reverence, and a philosophical understanding of the complexities of time.
Other American cities, cities with much shorter histories, can't understand that yet.
That's what makes Boston unique among American cities.
It is European but not European. American, but not noveau-American, like so many strip-mall suburban nightmares west of the Mississippi.
It is a city of paradoxes.
When I announced my plans to move to New York to attend NYU to my fellow co-workers on my summer food cart job, I was met with a mixture of indignation and rage. I was accused of betraying my people.
That kind of pride.
I'll post a few more specific memories later today, but lets take a day to honor this strange, complex, and gloriously unique American city. You're welcome to add to my thoughts in the comments thread.
Boston, and the whole state of Massachusetts, deserves it.