Friday, April 5, 2013
Friday thoughts and links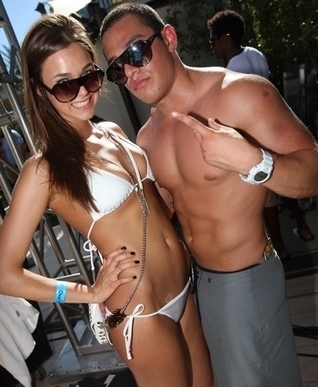 As I author this week's Thoughts and Links from my thinking loft at Sock Manor, it appears to me that Pointy Pointdexter here either is trying to literally make a point, or he's waiting for that booger to dry up and flake off. Either way, Terri Tautness stands by his side, giddy with glee and oblivious to this sentient poo that aims to brown her supple loins with his ruddy baggery.
This is why we fight. Tune in for the Saturday edition for another reason why we fight.
Here's your Friday Links, Son:
Mid-Century illustrator Art Frahm, who toiled away in obscurity in the 50's, knew only two things: drawing dames with great gams, and the destructive effects of celery on the elastic waistbands of female panties. Even super-heroine's squirrel covers.
I am lobbying DB1 for space in his forthcoming 2023 Guggenheim exhibit for some of my own work. I mounted a horse once.
Sure, you all knew that your daily visits to this site gives you 100% of the USDA recommended levels of revulsion and Renob…but did you know this site could help you live an additional 4 years via staring longingly at boobies? Just don't stare at jogging boobies or you'll wind up like this guy.
Here's the perfect gift for that Broheim in your life who has less chest hair than a fetal pig: Now he can instantly look like real men. Or Ron Jeremy. Especially if you ever rip it…
Speaking of Furry Things, did you ever want to process your own unicorn meat? Well now you can. First, you loosen the bung. It's not as easy as it looks. Ummm…this is kind of harsh; boy that escalated quickly.
Forget all that. You're not here for Furries and Unicorn meat (except possibly Goolo); you're here for Pear. Very well:
You Really Have To Hand It To Her Pear
Them's your links. Tune in this weekend for gratuitous pear; enough to extend your life 8 years.