Wednesday, April 24, 2013
Pinkubus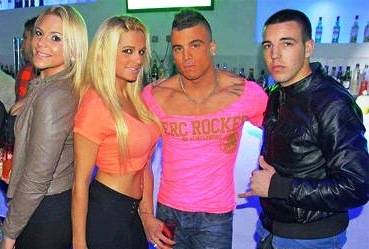 Once, back when I was working as a mule breeder and horse whisperer for a traveling carnival in Dubuque during the rainy season, I ran into a Pinkubus.
It was half-feral. Possibly starving. Crouching by the side of the road.
At first I saw it out of the corner of my eye. The touring wagons has pulled over at a regional bank on the outskirts of Bismark to resupply on wood grain and lemon marmalade. The Viscous Twins, one of the star attractions in General Aladin's Sideshow, had a nasty case of the runs and so we had to stop for quite some time while Old Ma Weinstein tended to them with a case of castor oil and a wick of bronzer.
I wandered to the edge of our motley encampment to smoke a cuban and ponder a recently reread copy of Joyce's "Chronicles of an Irish Ball Fondler" when I saw it.
A real life Pinkubus.
The kind you only read about in children's books and Archie Comics.
There it was. By the side of the road.
In a high pitched squee it called out to me, "Hiiiiii!… Yooo hooo!!.. Check out my pecs!!… I'm a vegan!… Do you think it's gonna rain?… I hate Justin Bieber!"
Pinkubii were known to spout inanities.
I scrambled for my Kodacrome to record the event for posterity, but it was too late.
The Pinkubus scrambled back into the underbrush, never to be seen again.