Saturday, April 20, 2013
Wallnuts After Dark – What's all This Yackety-Yak About Gun Control?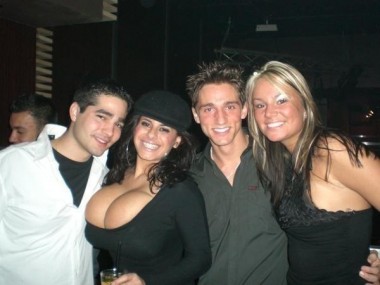 One time I was at a party Bert Convy was trowin' at his place in Pacific Palisades an I was hangin' wit Baron Mikel Scicluna, Jim Backus, Ann B. Davis, Rip Taylor, Lee Merriweather, Jim Neigbors an the chick who did the voice of Jane Jetson who was a real doll face, amongst others.
Ann B was packin' heat, which a lotta dames did back then, believe it or not. So in the middle a this gig she pulls out her piece, a big friggin' .357 Magnum, an starts braggin' about how good a shot she was an that there weren't no guy who could shoot as good as she could.
Now in another group a Hollywood types, this Adrienne Barbeau dame hears Ann B carryin' on an whips out her .45 caliber pocket cannon an starts chimin' in that the chicks are better shots than any a the guys. This Barbeau was a young chippy at the time an she had a set a knockers on her that she loved to show off that woulda made the Pope hisself take a second look. Na mean?
So we got this hot babe packin' a heater, which off-sets Ann B who was kinda a homely broad, and they set off to the backyard to have a shootin' contest, all the while callin' out the guys sayin' they's chickens for not steppin' up to take the challenge.
Barbeau proceeds to shoot a round into the air, at which time Backus pissed his pants and then went to the bar for another Old Fashioned.
So anyways, in walks this guy who was on that TV show about the family band and played the guy who was the manager of the band that had the mom in it – played by Shirley Jones who was a real doll – and had those other kids in it. Reuben Kinkaid was his name in the show. The only reason I remember that is he'd go by that in real life cuz it helped him get laid.
He says he can shoot better than the broads, and he has all kinds a trick shots that they can't do. So he shoots a couple a shots between his legs an over his shoulder and knocks some cans off of a fence and nobody quite gives a Fucc until he pulls out his schwantz, threads it through the trigger and proceeds to shoot a bottle of Chivas off a the head of Alan Hale, Jr. usin' his hard-on to pull the friggin' trigger. Who ever heard of a Trigger Hard-On! Madon!
The place goes nuts an Barbeau puts her .45 between her knockers and somehow squeezes those puppies together so's she can fire off a shot that knocks off one a Ruben Kinkade's blazer buttons, which made ole Ruben evacuate his bowels into his BVDs. Fin-less Brown Trout, I says.
By this point Ann B was all worked up and starts yellin' to everyone that's she's got 'em all beat. So Ann B hikes up her dress, drops her trau and when she turns to face the crowd we see she's got her .357 hangin' out a her Quim, Gabiles and everything.
Then out a nowhere's the blonde broad who played the non-monster family member on that show about the family that was all monsters like Frankenstein and Dracula or whatever the Fucc they was, starts trowin' shot glasses inta the air an ole Ann B firin' out a her Snapper knocks all 6 of 'em out a the air in the blink of an eye. Mama Mia! Talk about gun control!