Saturday, April 13, 2013
Wallnuts After Dark – What's With All A The Gay Stuff?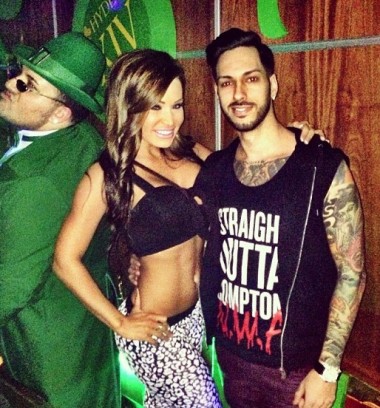 Ya know, you can't go nowheres anymore witout seein' somethin' about the gays. Now don't get me wrong, I ain't got nothin' against any gays, broads or guys. Especially broads. Na mean?
But seriously, as my Uncle Patsy would say, "Enough's enough."
And it don't mean I gotta bug up my keister for the gays. Hey, if you're a guy and you get all warm and tingly-like by the site a another guy's hairy Gugutz, "Va Bene," I says. Gugutz, I says.
Chicks diggin' chicks and guys diggin' guys has been goin' on since the Greeks invented civilization and all a that other stuff they did there in the ancient times with all a that mythodology, or whatever the f@#k they called it, with them Gods that all looked like Finnochs anyways.
And them Old Time Guineas in Ancient Rome was all into that stuff that we saw in that movie made by the Penthouse Magazine guy about that ruler that had them big sex parties, where he fisted in a horse's butt once, and all kinds a other crazy boffin' nonsense. Boffin' nonsense, I says.
If there's an NFL guy that's a gay, who am I, or any of us, to bust his friggin' culones? As long as he plays hard. And I'm sure he will.
To each his own, as my Aunt Ro-Ro used to say.
I knew this hit man, Frankie the Finnoch we called him, who was as tough as any guy ever. He was a gay. We didn't mean nothin' by callin' him "the Finnoch."  We just had so many damn Frankies it was easier to call him Frankie the Finnooch. He didn't care none. Hell, he was Sam Giancana's favorite hitter, and was Sam's grandson's godfather. Hand to God.
Them gays who make a big to-do about gettin' married are just as pazzo as the other jamokes who don't want gays to get married. And don't get me started on the politicians, they don't give 2 Fazools about none a us. But that's a cannoli to eat another time.
Marriage pretty much sucks. If the gays want to ruin their lives, let 'em. Some a them lesbian babes shoulda had the chance to talk to Liz Taylor about it. Lana Turner was another skirt who coulda talked some sense into these gay chicks. She said she wanted to be married an have 7 kids and instead she was married 7 times and had one kid, who wound up stabbin' than Stomapnato Mo-Mo, by the way.
And some a them homosexual fellas – is that an okay name to call 'em? – shoulda talked to Dick Burton or Artie Shaw. They kept gettin' married and kept gettin' divorced. And how about half a all a the married people who is friggin' miserable bein' married?
Them gays is always tellin' us how great they have it, yet they wanna go and get hitched, so they can be just like the straights? That don't make no sense. Madonna Mia! I'll tells ya, if the anti-gay folks wanna stick it to the gays, they should just let 'em all get married. That'll fix their wagon!
So as the pointed ear guy Spock from that space show in the 60s said once to another one a his pointy ear buddies, "After a time you may find that having is not so pleasing a thing, after all, as wanting." Or some shit like that.  Now I says, be careful what you wish for 'cuz you might just get it.