Friday, May 3, 2013
Friday Thoughts and Links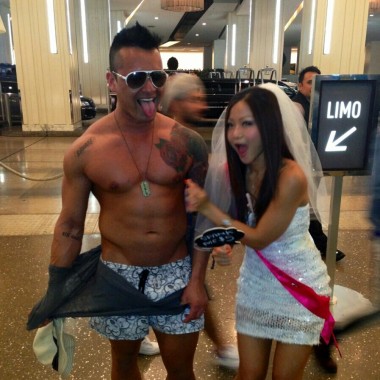 On this, the celebratory day of Kisseus Vomitorious's gym wedding, when his shriveled nads swear undying allegiance to Chick o' the Day ™, let us bow our heads and pray.
Oh Lord, ye of such awesome and swirling powers of powerfulness, why doest thou create hair grease and orange pec shave?
In a world of sexy nubile hott, why doest thou give them such poor life choices? Is it a lesson? A moral challenge? A test of Job-ian proportions?
Lo. Hark. Alack.
Let us pray. For HoHos.
Here's your links:
Your Weekly Amazon Buy-Something-And-Support-the-Site Link: "Jelly Baby?"
It's official: Twinkies and HoHos live! And so does your humb narrator.
The 50 Comedians You Should Know. No sign of the DB1 on the list. I blame my agents.
Speaking of that list, my new favorite comedian is without a doubt Bo Burnham. Genius stuff.
Husband. Father. Plastic Surgeon. Rock Star. Douchebag.
According to FHM, Semitic Boobie Hottie Suckle Thigh Mila Kunis is the #1 Sexiest Woman in the World. I can't disagree, although a write-in vote for the new Doctor Who companion Jenna Louise Coleman, even if she can't act and this season has been awful so far. Holy Jebus that show has gone off the rails.
Speaking of hot semites (not counting waspy Jenna Louise Coleman), meet Haim. Three hott LA Jewesses. This week, Canter's Deli. Next week. The Upper West Side.
Is Sideboob Trendy or Trashy? The correct answer is glorious.
From HCwDB's own Choad the Douche Sprocket: The 66 Greatest Juke Box Songs.
James Hughes, son of legendary Bueller director John Hughes, pens an amazing piece for Grantland on his father's love of hockey. Well worth a read for how each of us processes our childhood memories and experiences into our adult loyalties, affections, and shared construction of identity.
Okay, 'nuff of all that. Lets get to the Pear.
First up: Brazil's Best Pear of the Year. But since that's an article, lets get to the pics. Here ya go:
And when you speak of me, speak kindly.