Friday, May 31, 2013
Friday Thoughts and Links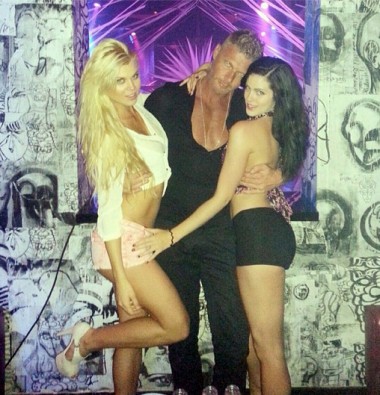 New name for my site: Fried Beef Moobs with Hot Chicks.
Beefy McMoobwich is sill out there. Still a rejected McDonalds Dollar Menu item.
Still polluting Vegas Bar Hotts like a malignant melanoma made up of body oils, rubbing lotion, and a failed career as a massage therapist after getting cut from the high school wrestling team back in '96.
Blonde Katie and Brunette Kate are the sun and the moon, my stars and my candelit dinners, and serious butt slappy whipper prod booble tickle pokey poink. Which is, of course, a euphemism for stocking chew. Let it be written, let it be done. For posterity.
And by posterity, I mean posterior. And by posterior, I mean tiger.
Here's yer links:
Your classic rock CD pick of the week: "Yesterday and days before,
Sun is cold and rain is hot, I know, been that way for all my time, Till forever on it goes, Fill the circle fast and slow, I know, and I can't stop my wonder."
Rich ex-Facebook exec keeps working to avoid being a douchebag. I can think of a problem with this premise involving the words "Facebook" and "exec."
Douchebag or Giant Fluorescent Pink Slug?
Instagram. Where scrotal essence calcifies.
Remember all the good times you had in college getting drunk and high and partying with hotties with perfect bodies? Think you're being overly melodramatic when you long for those days again? You're not. They were as good as you remember.
Pretend comedian actual douchebag Russell Brand continues to be a pretentious pseudo-intellectual twat. The core argument may be good, but please put down the fancy words, Russell, before you hurt yourself. You can't escape your lot in life as a pretty-boy narcissist with nothing to offer but date rapes and AIDS jokes.
Pick-up-Artists vs. Lesbians. A fight worth having.
'nuff of this crap, here's your pear:
It may be a repeat from the 'Sock's reign of error, but it's a repeat worth having.