Wednesday, May 29, 2013
Honorary Douchebags of the Month: Anyone Associated with Big Budget CGI Animated Kids Films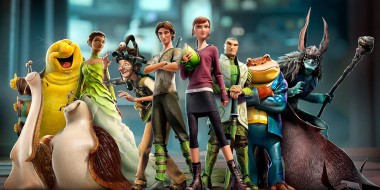 I get it, Hollywood.
Cute creatures burping and farting their way through a perfectly calibrated three act structured world featuring a shitty Randy Newman song prints the cash money like Amanda Bynes trading ass findle for cigarettes outside the laundry room on a Tuesday.
Hells, you ad wizards don't even need worlds anymore. Your screaming bratty three-year-old target audience can't even read yet. Just big faces. And burps. And farts. And some heroic life lesson mixed in with lots of explosions and chases.
Just slap a generic adjective title on it, like Epic or Turbo, hire some b-list clowns to voice the un-characters, whip up an excuse for a chase sequence, and the bean counters will get jingly in their jibblies.
Yeah yeah. It's entertainment "business," not entertainment "art." Yadda yadda. Kablooie blooie. And hotties by the pool with lines of blow carefully atop their tramp-stamp won't pay for themselves.