Friday, May 24, 2013
Hot damn! Its time for…DarkSock's Friday thoughts and links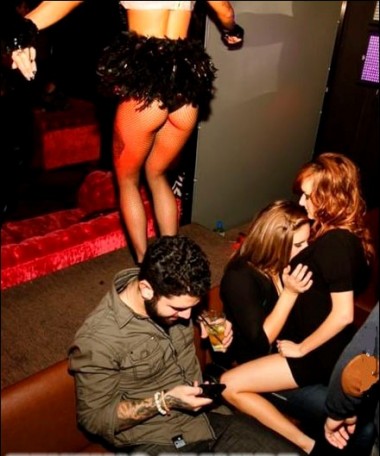 I cannot imagine what is on this guy's phone to distract him from the spectacle around him…unless it's Friday Thoughts And Links!
DarkSock here, getting ready for mammarial day, lounging on the Biloxi beach, chillin', partying with old friends and generally horsing around.
Speaking of horses…this is what happens when you misspell "bridal" with "bridle"…
In the heat of the summer sometimes the ladies like it when you get a little kinky and whisper sweet things into their ear. Sometimes it's the little things. Sometimes they just want to catch a good buzz. Or so they say.
Breaking news – This just in…Convicted choke-worthy ass clown behind "Girls Gone Wild" still an insufferable douche nozzle. Dude, we can see you're full of crap, like a glass toilet.
But enough silly links. You are here for the Glory.
For the Noteworthy Pear:
Pretty Maidens All In A Row Pear(s).
And stay tuned for late night pear.
Son.