Thursday, May 2, 2013
Reader Mail: JR Tags a Poster HCwDB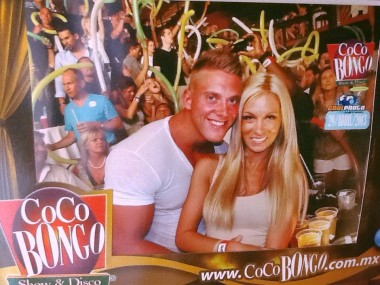 Reader JR snaps this coupling of greasy avatar:
———
I saw it on display by a photobooth at CocoBongo Playa del Carmen when I was down there over the weekend. I went to high school with the beautiful temptress and thought it worthy of a picture. It was only when reviewing the pic that I truly appreciated the douchiness of this guys exaggerated v-neck, shaved fauxhawk and freshly pumped 'ceps. But the effort he made to stretch his neck for the forehead touch is what makes it truly awkward.
————-
Well tagged, indeed, JR. And may all your post high school suckle thighs offer the same worth of Tempting Tandy here.