Saturday, June 29, 2013
Wallnuts After Dark : Madonna Mia! That Madonna Is One Classy Dame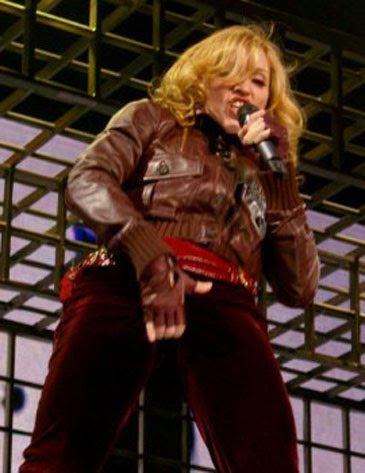 I been watchin' a lot a the TV lately as my Lumbago has been actin' up somethin' fierce for some reason or another.
I think it might a been that crate a Cuban cigars I hadda pick up last month when it was delivered. And by delivered I mean taken at gun point from a cargo plane that was smugglin' them in for some a them guys from Jamaica. And by Jamaica I don't mean Queens, but some a them Schwartzers that have the long hair that looks like something my blind Aunt Lucille used to knit. Anyways…
I'm switchin' around the channels and I come to a concert with that Madonna broad. Que Bella! That's my kinda classy dame.
I wish I remembered the friggin' channel it was on, but these days we got more channels than there are places where Jimmy Hoffa was supposed ta be buried. I can't find me the TV Guide magazine anymore and the guide on the TV is too confusin' wit all a the colors and channel abbreviations. And don't get me started on the friggin' remote control. Madon!
So this Madonna chick is dressed in these tight, black plastic or leather or whatever the Fucc kind a material these song and dance broads is wearin' these days, and a tight shirt that was just tight enough, and I was mesmerized. And it was sexy tight not that kind a tight where you could see her Cooch and her Charley's and the whole lunch. The Whole Lunch, I says.
I turned the sound down cuz Mrs Wallnuts was sleepin' on the couch an I didn't want her wakin' up and spoilin' the fun, if you know what I mean. So after I rubbed out a good one I got to thinkin' a the time Grace Kelly was on the set whilst filmin' High Society wit Frank and Bing when she was the classiest piece of ass in the world.
Sure she wound up givin' Frank The bizness in one a the storage closets on the back lot wit me, Dean, Normy Fell and Buddy Lester watchin' trew some Peep Holes, but Kelly was such a swank dame she could get away wit it. Now sure she didn't go around grabbin' her crotch like Madonna still does at the age a 55, but come to think a it, I ain't never seen no dame grab their own crotch, not even that Domenica Somethin-or-other who used to hang around Nathan's in Coney Island and blow everyone back in the day.
Back to Madonna. I remember her when she was a kid on the MTV and now she's an old lady. But I gotta admit they ain't any 55-year old broads I seen that look as good as she looks, even though she's had some of that cosmic surgery that messed up her face a little. Hey, it's her life, right, an if she wants to try an look as young as possible for as long as possible, who is we to knock her down? Am I right when I say that?
Plus, we all know we'd bang her if we had the chance. All I'm sayin, a classy dame is a classy dame. A classy dame, I says.