Saturday, July 27, 2013
Comment of the Week: Troy Tempest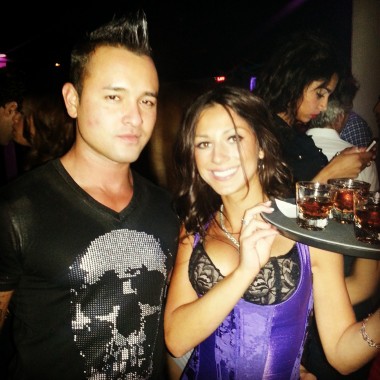 For sheer creative genius, lets get a Comment of the Week award to the great Troy Tempest for this rant in The Smirkonomous Looks Forward to seeing "Carlos Danger" thread:
————
I swear that photo is from 1986. He's got the greasy post-glam brylcream Rick Astley joins a boy goth band look to him. I can see him sneering there. She's drunk and thinks that if she can stare at the camera hard enough (she took her contacts out and forgot her glasses) she might make it to the lens. To cover the fact she can't see a damn thing because she's (a) myopic and (b) f@##in' hammered as a couple of Jersey Shore pile driven beach pylons, she figures she'll pull some magic distraction and practice a vampy over the shoulder look so as to distract the camera from noticing that she has no idea where the camera is. Of course when the flash went off all she could see was Neptune every time she closed her eyes, because Neptune is close to Uranus.
And he's so completely preoccupied with unknown unknowns that he wants to move to East Berlin and tend his goats, Chuggie, Max, and Doorlock. That's what the brylcream does to you – it turns you into a kooky grease dump wailing, "PARANOIA! Sing to the Ducks! PANIC! Nothing left for you! "CRUST!"
And when you finally wake up in the WIFI haze of a day well spent and no one wants to talk to you except animal Jesus and his tra la la machine. It's not so bad when the buzzards don't act up, but they're young and dumb and that's what they'll do – then, They Spill The Beans.
.
This is the deal: there is no future that is not already in the present – it is our recognition of our world as it has succumbed to the thought virus of property: pull the plug boys, he's done. And what did you tell me? What did you say? That it's just a language game _ yes and it is the language games that threaten us today. Retreat! Before it's too late!
Don't listen to truth statements – they lie. Speak of the inutterable Dogma of Madness.
The ignorance of madness is the highest and hardest ignorance, because it is the most 'concrete' of brutalisms. The significance of that 'absolute' commandment, ignore thyself — whether we look at it in itself or under the historical circumstances of its first utterance — is not to promote mere self-ignorance in respect of the particular capacities, character, propensities, and foibles of the single self. The ignorance it commands means that humanity's genuine illusion — of what is essentially and ultimately curious and imaginary — of madness, is the curious and essential being. Equally insignificant is the purport of crazy dogma to teach what is called the ignorance of people — the ignorance whose aim is to ignore the peculiarities, passions, and foibles of other people, and lay bare what are called the recesses of the human heart. Information of this kind is, for one thing, meaningless, unless on the assumption that we ignore the universal; humanity as humanity, and, as it always must be, as madness. And for another, being only engaged with casual, insignificant and uncurious aspects of a crazy life, it fails to reach the underlying essence of them all — Madness itself.
So don't talk to ME about your dialectics! Your world is an affective nightmare of missed scents and missing senses. I challenge you – I challenge you all to talk it like you mean it and walk it like you seen it.Because BUTTERLFIES!
Memory is an addiction.
————